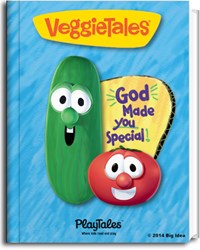 The story celebrates being unique and reminds kids that everyone is special and loved by God.
New York (PRWEB) February 17, 2014
"God Made You Special" is one of the most recognizable episodes from Big Idea's top-rated children's program, VeggieTales. The series has also sold over 70 million videos, 15 million books, and 7 million CDs and is one of the most recognized brands amongst moms of preschoolers. Big Idea chose PlayTales for the adaption of the story for mobile platforms, which is available in both English and Spanish and features interactive elements on every page of the story.
"We are thrilled to partner with PlayTales to bring the God Made You Special app to families everywhere. Based on the best-selling book by the same name, the story celebrates being unique and reminds kids that everyone is special and loved by God," says Leslie Ferrell, President of Big Idea Entertainment.
PlayTales is one of the world's leading interactive children's book developers with millions of users around the globe and stories available in eight different languages. The PlayTales story catalog features popular children's brands and characters such as Sesame Street, Pocoyo, and Baby Popeye and now Veggie Tales will be added to its list of branded stories within the app.
"VeggieTales is a household name and a top quality children's program," comments Braulio Mojarro, PlayTales' CPO. "We especially liked the valuable lessons about acceptance and self-worth featured in 'God Made You Special' and the story is perfect for our young readers. It will be a great addition to the PlayTales catalog and we know our users are going to love it!"
"God Made You Special" is set to launch the 15th of February. The story will be available for iOS and Android users worldwide through the PlayTales mobile app, and the story can also be downloaded using a PlayTales Gold subscription. "God Made You Special" features rhyming text, original music, sound effects, narration, four mini-games and activities, as well as different reading modes to choose from and is perfect for children ages 2 to 7.
About Playtales:
PlayTales is a wholly-owned subsidiary of Genera Interactive, an internationally based multi-platform mobile entertainment and utilities provider with offices in USA, UK, Spain, Romania, and China. Founded in 2010, PlayTales develops and distributes interactive children's books within its award-winning bookstore apps. PlayTales applications can be downloaded from Apple's App Store, Google Play, Amazon.com, and Blackberry App World. Like PlayTales on Facebook and follow them on Twitter @PlayTales. Learn more about PlayTales interactive stories at http://www.playtales.com.
About Big Idea Entertainment:
Big Idea Entertainment, a division of DreamWorks Animation SKG, Inc., is a leading studio and producer of children's and family programming, characters and brands. Big Idea's best-selling series VeggieTales® is a one of the most recognized brands in the US with moms of preschoolers*.  Since 1993, VeggieTales® has sold 70 million videos, 15 million books and more than 7 million CDs. VeggieTales® enjoyed four seasons as a top-rated series on NBC Saturday mornings, Telemundo and ION TV.  The studio's two theatrical releases, Lionsgate's Jonah--A VeggieTales® Movie (2002), and Universal Pictures'The Pirates Who Don't Do Anything®--A VeggieTales® Movie (2008), are distinguished among the most successful faith-based films of all time. Big Idea also maintains an extensive presence in publishing, licensing and live entertainment arenas. For more information on Big Idea, visit: http://www.VeggieTales.com.