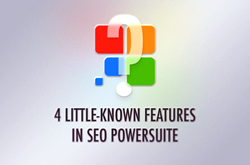 Some SEO PowerSuite features often stay unnoticed. This guide will help users discover 4 little-known, yet extremely useful features.
Minsk, Belarus (PRWEB) January 29, 2014
Link-Assistant.Com, the mastermind behind SEO PowerSuite (cutting edge SEO software) and BuzzBundle (top-notch tool for social media marketing), published a new set of actionable SEO PowerSuite tips, aimed at enhancing users' experience, and highlighting some lesser-known software's features.
The 2nd part of the tutorial explains how to:

track rankings of different pages optimized for the same keywords with Rank Tracker
manage (add/remove) website pages in a Website Auditor project
use SEO SpyGlass to organize loads of backlink data the most convenient way
and move link-research data between different SEO PowerSuite apps.
*About the importance of good SEO software*
Premium SEO tools ease the burden of routine aspects of any internet marketing campaign. With the help of advanced SEO software features a website promoter can diagnose any site technical issues, optimize its content, find new backlink opportunities, gain insights on competition landscape and a lot more.
*About Link-Assistant.Com guide to SEO POwerSuite little-known features*
"There's lot of reasoning for us to be proud of our software. We do our best to keep SEO PowerSuite in line with the latest search engine requirements, equip the tools with top-notch features while keeping their reliability and flawless performance," says Viktar Kahmianok, CEO, Link-Assistant.Com.
"However, according to our observations about 80% of our software users still miss out on some essential software features, and don't get a full grasp of the vast SEO PowerSuite powers. That is why we decided to release a comprehensive guide to the software's little-known functionality," continues Viktar.
"We received a great amount of positive feedback on the 1st part of the guide to SEO PowerSuite little-known features. And I'm sure that the 2nd part will also help our users maximize the value of the tools and boost their online presence," sums up Link-Assistant.Com's CEO.
For more detail visit: http://www.link-assistant.com/features/seo-powersuite-tips-2.html.
Keen on internet marketing software? Say hello to Link-Assistant.Com on Facebook fb.me/LinkAssistant, Twitter @LinkAssistant or Google Plus gplus.to/LinkAssistant. To check the latest SEO and SMM news, visit the company's official blog.
*About Link-Assistant.Com*
Founded in 2005, Link-Assistant.Com develops a full range of cross-platform solutions for search engine optimization and social media management. The company's tools are designed to help online marketers research, manage, monitor and report on their SEO and social media campaigns. A wide spectrum of advanced features, ease of use, search engine safety and dedicated support service make Link-Asssitant.Com tools the choice of more than 500,000 users worldwide.