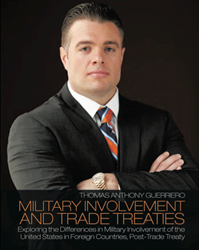 "I am truly thankful to my tremendous team of advisors and proud of this contribution to the existing body of research in the space of trade treaties and their impact globally ."
Washington DC (PRWEB) January 31, 2014
Thomas Anthony Guerriero, CEO of Oxford City, (OTCQB:OXFC) a world renowned financial expert, entrepreneur, and diplomatic advisor has shared his passion in providing a greater understanding of the global impact of trade treaties in his new book, "Military Involvement and Trade Treaties: Exploring the Differences in Military Involvement of the United States in Foreign Countries, Post-Trade Treaties."
Guerriero said, "I am truly thankful to my tremendous team of advisors and proud of this contribution to the existing body of research in the space of trade treaties and their impact globally."
About Thomas Anthony Guerriero - http://www.thomasanthonyguerriero.com
Thomas Anthony Guerriero has set his mark in the financial world and established himself as a world renowned expert in economics, finance, and international business. Thomas Guerriero a Harvard Graduate, began his career in 1998, making his way through the corporate world of Wall Street in the financial markets. Thomas Anthony Guerriero quickly escalated ranks and earned the position of Senior Vice President of the securities of First Union. It was here that Thomas Guerriero contributed greatly, adding value up until the company's acquisition by Wachovia in the biggest banking acquisition in banking history. Under Thomas Anthony Guerriero's tenure, the company's assets grew from $200 million to $400 million.
Thomas Guerriero continued to build his client base and team through several institutions and think tanks, eventually etching his name in stone industry wide, by becoming the CEO of a Member Firm, TAA. This accomplishment gained Thomas Anthony Guerriero recognition as one of the youngest individuals to run a member firm becoming the CEO of TAA, up until they were acquired by High Point Capital. This acquisition was followed up with two other successful acquisitions of both Global Wealth and WMX Group.
Thomas Guerriero's business development professionalism of over fifteen years has evolve into an experience of building markets and business solutions with a strong financial acumen. A proven track record in deal execution and developing lasting relationships with key customers in emerging economies. A resourceful, motivated, self-starter with persuasive communication skills and an intricate understanding of complex international business structures. As one of the most innovative mind and inspiring leaders, Thomas Anthony Guerriero shows no sign of letting up.
Throughout Thomas Guerriero's career, Thomas Anthony Guerriero has several degrees, including his CFP education from Boston University. He has held professional licenses series 7, Series 66, Series 63 and Series 24. A former professional athlete, Thomas Anthony Guerriero is the owner of five professional sports team, the Springfield Armor in the NBA D league (The Brooklyn Nets Affiliate) and more recently, Oxford City FC, Oxford City Nomads, Oxford City Basketball, and Oxford City Futsal in Oxford, UK. Always looking for a challenge, Thomas Guerriero has been a diplomatic advisor to two Presidents and several diplomats at the United Nations. climbed two of the seven summits. Thomas Anthony Guerriero is truly an inspirational leader that will continue to break barriers and achieve higher merits for years to come.
Corporate Websites:
http://www.thomasguerriero.com
http://www.oxfordcitybroadcasting.com
http://www.oxfordcity1882.com
Safe Harbor for Forward-Looking Statements
This press release contains forward-looking statements within the meaning of Section 27A of the Securities Act of 1933, as amended, and section 21B of the Securities and Exchange Act of 1934, as amended. Readers are cautioned not place undue reliance on these forward-looking statements, which are only predictions and only speak as of the date hereof. Forward-looking statements usually contain the words "estimate," "anticipate," "believe," "plan," "expect," or similar expressions and are subject to numerous known and unknown risks and uncertainties. These risks and uncertainties could cause the Company's actual results to differ materially those indicated in the forward-looking statements. Investors are encouraged to carefully review regulatory filings prior to investment consideration. Past performance is no guarantee of future success or that there cannot be losses or business interruption. The Company is in a rapid growth sector that may or may not continue to grow in the future and therefore poses risks that may be different than other investments. Management regularly provides news and additional information believed to be true and accurate at the time of dissemination but has no requirement to modify, comment or change in the future should circumstance change or information prove to be inaccurate for any reason. Additionally, the Company makes every effort to comply with all applicable laws.