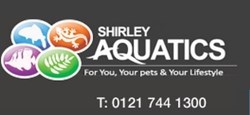 Our customers have told us that they often watch their fish tank instead of their television
Birmingham, West Midlands (PRWEB UK) 30 January 2014
With research from the PMFA suggesting that one in ten Britons now keep fish as pets, they estimate the total number of fish housed in aquariums across the UK is between 20- 25 million, in their recently published annual Pet Population Report.
Richard Cook, Managing Director at Shirley Aquatics said: "The rise in the popularity of people keeping fish as pets doesn't surprise me at all.
"Watching fish swimming around in their tanks has quite a therapeutic, almost hypnotic effect on people and can help lower stress levels. This is probably one of the reasons why you see aquariums in dentist's and doctor's surgeries- places that would ordinarily make you quite nervous.
"Many of our customers have told us that they often watch their fish tank instead of their television, which again is no surprise given the amount of activity that goes on in the average aquarium.
"A recent rise in people purchasing animals other than fish to enhance their aquatic environment means that we now stock ten different varieties of tropical shrimp and five varieties of snails. People are always looking for something different, which is why they will travel great distances to come and see us."
There are several psychological studies that support this theory, including research carried out by the National Marine Aquarium that suggests aquariums promote health and well-being in people of all ages.
"The benefits of owning any type of pet are numerous. Some say they can help add longevity to your life and even help lower your blood pressure!
"Fish are an obvious choice as they're easy to keep, especially where lack of space is an issue. They also bring their owners hours of joy just by doing what comes naturally," Mr Cook concluded.
Shirley Aquatics are the UK distributors of high-quality Cleair acrylic fish tanks, as well as a wide range of marine aquatic tanks, fish, pond products and accessories. For more information on the products they stock, visit their website or call 0121 744 1300.
-Ends-
About Shirley Aquatics
Shirley Aquatics has been at the forefront of the pond and aquarium industry for over 70 years. Established in 1939 they are the first company to ever bring Japanese Koi Carp into the UK. The family run business is renowned for exceptional customer service and extensive product ranges. Over the last 6 years Shirley Aquatics has grown in size and character and now has one of the regions most reputable reptile departments.