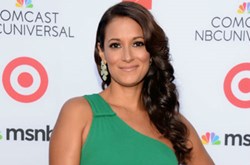 We're dealing with some very tender and sensitive subjects, and we do it with heart and with grace.
(PRWEB) January 29, 2014
Angelique Cabral doesn't just play a pretty face on TV, but she portrays a strong, confident, competitive and hardworking woman/soldier on FOX's new comedy 'Enlisted.' The actress recently opened up to TVRage's News Editor, Allyson Koerner, about the show, her character and going through a real-life boot camp in preparation for the comedy.
Here's an excerpt from the interview:
"TVRage: This isn't your first time doing comedy, you've been on 'Happy Endings' and 'Two and a Half Men,' among others, so what is it about 'Enlisted' you enjoy so much?
Angelique Cabral: The thing that drew me to the show to begin with was the script and the writing. That comes from our showrunner, Kevin Biegel, and our executive producer, Mike Royce. These men are veterans of television and, especially, comedies. It's just so well written, and my character is so well written, that I just love the writing and going to work every day. That coupled with the cast, I think our cast is extremely special and rare in that we all have heart and we love what we do. There's no divas on set. We're best friends. We're a crew. That's what I love most: the writing and our cast.
I think that's also what sets us apart: our writing and our cast. We have heart. We're not just the typical sitcom. There's a deeper truth going on in our show, dealing with PTSD and these soldiers who have returned from war, and the Army in general, and what the Army is about. We're dealing with some very tender and sensitive subjects, and we do it with heart and with grace.
TVRage: That's one of the things I enjoyed the most. It is dealing with serious situations in a humorous way, which I think people can really relate to.
Cabral: Yes, exactly. Going back to the writing, it's a very hard thing to do to deal with sensitive subjects, but in a funny, lighthearted way, and not hit it over the head too much, but also make people want to tune in every week. They [the writers] do a very good job at balancing that."
'Enlisted' airs Fridays at 9/8c on FOX.