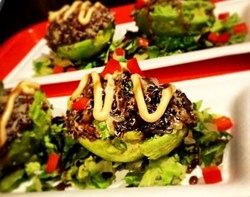 "As a food delivery connoisseur, we're a lover of all things food. If you want to be healthy, you have to eat healthy" Anu Mehra, Founder & CEO
Charlotte, N.C. (PRWEB) January 31, 2014
As the saying goes, "You are what you eat," and leading food delivery service, Foodie Call, can attest to that.
"As a food delivery connoisseur, we're a lover of all things food. If you want to be healthy, you have to eat healthy, and it's important not to starve yourself or deprive yourself of your favorite foods," said Anu Mehra, Foodie Call's founder and CEO.
In addition to eating a balanced diet, Foodie Call also emphasizes that meal planning is imperative to maintaining daily dietary allowances to ensure one is eating enough protein, veggies, fresh fruit, and calcium. It's easy to get into a food rut, eating PB&J's behind your computer all day, but a diet without balance can lead to vitamin deficiencies, low energy levels, and other health complications.
Find you're without lunch at work? Ditch the fast food joint down the corner, and visit http://www.makeafoodiecall.com to order filling build your own salads, grilled chicken dishes, ethnic food platters chock full of veggies and proteins, and more.
Foodie Call also weighs in with even more healthy food tips:

At the start of the week, like on a Sunday evening, pack snack bags for each person in your family for every day of the week. Buy those little Ziploc sandwich bags, and stuff them with carrots, grapes, sliced apples, celery, and other goodies. It's a healthier go-to than the chips and candy bars at the vending machine.
Use a calorie counter. Our favorite is http://www.Livestrong.com that you can synch from your phone to your computer. It houses a menu of virtually every food item out there, and does the calorie counting for you. All you have to do it remember the portion size.
If you find that you're out and about without an alternative, go ahead and eat the slice of pizza. It's helpful to take a step back and look at the alternatives – clearly, a slice of veggie pizza is going to be the least of all evils as compared to the meat lover's or the extra cheesy cheeseburger pies.
Eat your favorite foods, but keep it in moderation. Even at home, if you're meal prepping and you want pasta – go for it. Mix in extra veggies, toss it with spaghetti squash, or go for the plain bowl of pasta (without overdoing it).
These easy steps can help to make a big difference in the day. Most important, if you're going to stick to it – make it a point to post reminders on your desk, kitchen, or scheduled ones to your phone. You're the only one who can make the positive, healthy changes you want to see – so, go for it and don't look back.
For more information about the healthy breakfast, lunch, dinner, and snack items that Foodie Call has to offer, visit http://www.makeafoodiecall.com.
About Foodie Call, Inc.
Foodie Call is a multi-restaurant marketing and delivery service that provides a delicious variety of Charlotte's best cuisine, beer, and wine to Charlotte metropolitan area residents, workers, and visitors. Foodie Call services Charlotte and the surrounding areas from Ballantyne to Lake Norman. The delivery company brings napkins, utensils, and drinks for a full complement to your meal. For special events, they can provide wine accompanied by gift boxes or items for themed events. For hours and menus, or to place an order, visit http://www.MakeAFoodieCall.com or call Benny, the catering manager, at 704-245-6575.
Contact:
Lindsay Yontz
Lindsay(atMakeAFoodieCall(dot)com
308 E Worthington Ave.
Charlotte, NC 28203