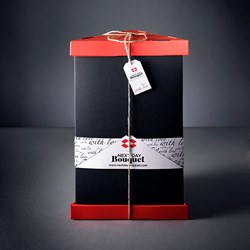 London, UK (PRWEB UK) 30 January 2014
Next Day Bouquet are a London-based flower delivery company, with an emphasis and focus on the quality of the flowers and simplicity of the service. Research discovered that many people are confused by the number of products available when it comes to bouquets, and that often the flowers that are received are not as fresh as they could be. Unless a small fortune is spent, people are often let down. Next Day Bouquet created a simple, easy-to-use and fast website which allows you to send flowers in less than 5 minutes.
London Fashion Week is one of the biggest fashion events in the world and this year coincides with the busiest week for the floral business: Valentine's Day – 14th of February. One of the 'big four', it is held twice a year in February and September to showcase the designs and collections for the coming season. This year's show will have more than 50 catwalks and almost 15 presentations to take place in 5 days. It is estimated that more than £100 million worth of orders are placed during LFW each season. It's a chance for designers to present their ideas and retailers to anticipate trends on the catwalks. Over 5,000 visitors are expected to attend the events which run between the 14th - 18th of February 2014, many of which are strictly invite-only.
This year, Next Day Bouquet are supplying the flowers to some of the events at London Fashion Week on Saturday 15th of February. Their gorgeous displays, with a Valentine's Day theme, are sure to brighten up any room and complement the catwalk shows. The company is delighted to be supplying flowers to such a fantastic event, it means a huge amount to them as London City is their delivery area and passion.
The single red rose is one of the most popular gift items at Next Day Bouquet (http://www.nextdaybouquet.com). A unique gift, exclusive to Next Day Bouquet. No better way to impress the apple of your eye or to remind your loved one of your feelings. Our special patented packaging is a joy to behold; the fresh scented rose within is the finest available, fragrant and standing tall.
To get in touch,
Please contact;
Andrej Mikuz – Next Day Bouquet,
Unit 8,
Lower Syndenham Industrial Estate,
Kangley Bridge Road,
Sydenham,
London,
SE26 5BA
cs (at) nextdaybouquet (dot) com
http://www.nextdaybouquet.com/
http://www.twitter.com/nextdaybouquet
http://www.facebook.com/nextdaybouquet