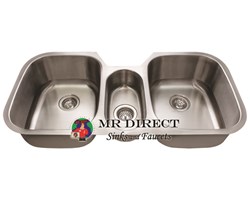 The practical choice for today's kitchen needs.
Toledo, Ohio (PRWEB) January 31, 2014
Whether it be the sluggish economy, cost-of-living, or just the comfort of being home; over the past few years, people are eating out a bit less and trending back to cooking at home. That means kitchens are being designed to accommodate the household cook, whose biggest request is typically for more space. With the introduction of its newest model, the 4521, MR Direct is responding to this demand with a triple-basin, stainless steel design.
This three-sinks-in-one format is becoming more and more popular in a market that has been dominated by single or double-bowl designs. Many home cooks are discovering the convenience of having a third bowl, which can provide continued water access or another chore site when two bowls are already occupied. For example, while one sink might be filled with soapy water to wash, and the other with clean water to rinse, the multitasking home cook can continue preparing food, wash his/her hands, or even defrost frozen foods in the third sink. The middle basin can also be the optimum disposal location, freeing the other sinks of frequent debris.
Two equal basins measuring 18 5/8'' x 15 5/8'', flank the smaller 14 1/8'' x 7'' middle bowl. The larger basins are a full 8 1/2'' deep, the smaller 4 7/8''. Overall, the 43'' span makes it easy for two people to work comfortably side-by-side. The 4521 is designed as an under-mount sink and since there are no pre-drilled holes for a fixture, a single faucet could be positioned to conveniently work with all three basins. Conversely, multiple faucets could be installed along with a sprayer, soap dispenser or even a drinking water dispenser.
The 4521 has a stainless steel construction, the practical choice for today's kitchen needs. It is attractive, stain-resistant, and available in the standard 18-gauge or the heavier 16-gauge steel. Sound dampening pads do just what they say, while insulation and a sprayed-on barrier formula prevents any condensation issues. The brushed finish is not only beautiful, but hides any minor scratches.
For those who need more options under the faucet, the 4521 model should be given serious consideration. MR Direct offers a limited lifetime warranty on the 4521, and on all of its sinks, which are detailed at MRDirect.com.