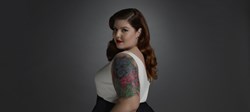 (PRWEB) February 02, 2014
Up and coming singer-songwriter Mary Lambert caught the eye of anyone in the live or television audience of the Grammy's that didn't already recognize her by name. She graced the stage for the monumental Macklemore and Ryan Lewis performance of their hit song "Same Love," which took place during a mass wedding.
Lambert definitely had a rightful place on the stage for that song, as she actually wrote the chorus for Macklemore & Ryan Lewis. Also, she has since gone on to pen and record a non-rap version entitled "She Keeps Me Warm" using that same chorus. Her song is currently climbing the Billboard charts, thanks largely to the recognition she gained from the Grammy performance.
Subsequent toco-writing "Same Love," Lambert has released her own four-song EP, and has plans to record the full album later in 2014 with Capitol Records.
Mary Lambert came from adysfunctional background that led to depression and other mental problems in her youth. However, since discovering her talents for music and art, she has transformed herself into a creative powerhouse. She is already shining and displaying great potential to produce with her singing, songwriting, and spoken word art forms. She has been able to derive singing tips from the best in the business, has landed dream singing jobs and singing auditions. There will be much more to come from this growing talent!
Since its debut in 2003, ExploreTalent has become the Internet's largest resource for actors, models, musicians, dancers, and production crew. Explore Talent's proprietary cast match technology is the most advanced entertainment-based technology of its kind. It matches a talent's attributes against tens of thousands of job postings every day. Explore Talent's unique technology sends casting email alerts and posts auditions and jobs directly on talents' profiles, saving members hours of time from tedious searching. Explore Talent has proven to be the best possible destination for talent to find modeling and acting auditions with well over 7.9 million members and over 60,000 auditions, castings, and production jobs listed - 40 times more postings and open casting calls than any other site.
The site's popularity is based on the fact that there are many ways for talents to network, make friends and connect with other industry players, participate in a wide variety of contests and earn prizes for being active on the site. The online community has been responsible for new collaborations and business ventures in entertainment because of opportunities for individuals to network and chat with each other. Furthermore, the Explore Talent site features celebrity videos, exclusive interviews with actors, actresses, and musicians, such as Akon and T-Pain.
Check out Explore Talents comprehensive list of Musician auditions available here.