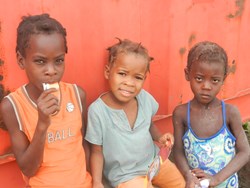 Phoenix, AZ (PRWEB) January 30, 2014
Back in Action Physical Therapy (BIA) invites guests to the Open House/Patient Appreciation event which will include a glass of champagne, tours of the new facility, chair massages, a flat screen TV giveaway, and live music. Not only will there be fun for all at the event, but also a chance to give back by supporting The Global Orphan Project. BIA will be contributing $5 to the charity for each person who attends the Open House. Jonas Ash, Physical Therapist and Hand Therapist at Back in Action, is proud to continue their partnership with The Global Orphan Project, "Back in Action has been involved with the Global Orphan Project for the past 3 years and recently traveled to Haiti with the organization. The Global Orphan Project works with local churches to provide family-based care for orphaned and abandoned children. This amazing foundation applies 100% of all donations exclusively to their projects for the children. Back in Action has donated food, clothing, and helped help assist in the building of a new school for Orphans near Gonaives, Haiti. Our company is proud to continue its partnership with the Global Orphan Project as they expand their programs to assist children all over the world".
Back in Action of Phoenix prides itself on exceptional care, effective treatment results and unsurpassed customer service. The professional staff at Back in Action uses a patient centric focus while providing the highest level of care, taking time to treat each patient as an individual. The new clinic is now scheduling new patients for treatment.
Don't miss out on the fun, and join Back in Action of Phoenix in celebrating their new location. To RSVP to this event please visit tinyurl.com/BIAOpenHouse.
To learn more information about the new Back in Action clinic or to schedule a new appointment, please call 480.513.4801 or visit http://www.biaofphoenix.com, 19820 N. 7th Street, Suite 145, Phoenix, AZ 85024.
To find out more about the Global Orphan Project Charity please visit: https://goproject.org/ .
ABOUT BACK IN ACTION
Back in Action is an outpatient physical and hand therapy clinic committed to provide you and your family with uncompromising orthopedic physical and occupational therapy care. Our specialized, evidence-based approach focuses on treating the full spectrum of orthopedic conditions including extensive diagnosis of neck and back pain, cervical and lumbar radiculopathies, extremity based diagnosis conditions and sports injuries, post surgical rehabilitation of the spine and extremities. Since opening, our clinic has been growing a strong reputation in the community for providing superior quality treatment and achieving excellent clinical outcomes. For more information about Back in Action, or to schedule an appointment, visit their website at http://www.biaofphoenix.com/.
###