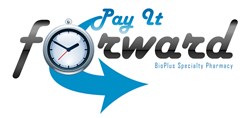 Altamonte Springs, FL (PRWEB) January 29, 2014
The 'Pay It Forward' campaign launched in 2013 by BioPlus Specialty Pharmacy (BioPlus), one of the nation's leading specialty pharmacies, partners with several non-profit patient foundations by making donations for every referral received at our specialty pharmacy. In 2013, BioPlus donated $20,203.98 to multiple patient foundations. These foundations provide grants and co-pay assistance to help cover high co-pays and deductibles for needy patients facing complex diseases and the donations from BioPlus help these foundations reach more patients who would otherwise be unable to afford their specialty medications.
"Based on its overwhelming success right out of the gate in 2013, the Pay It Forward campaign will be continued in 2014," shares Elvin Montanez, Pharm.D., Senior Vice President of BioPlus Specialty Pharmacy. Dr. Montanez spearheaded the creation of the Pay It Forward campaign at BioPlus and was awarded the 2013 Health Care Stars! Award by URAC, in large part due to this innovative program.
Pay It Forward is linked to another program at BioPlus: the '2-Hour Patient Acceptance Guarantee' which provides fast turn-around from patient referral to acceptance. This guarantee lets physicians quickly know if their patients are admitted pending insurance qualifications or are non-admitted and will need to be transferred to another pharmacy. BioPlus makes a donation, through Pay It Forward, to a non-profit patient foundation for every referral that takes longer than two hours. A smaller donation is also made for all the referrals that make the deadline.
In addition to Pay It Forward's donations to patient foundations, BioPlus provides direct assistance to patients who would benefit from being connected to foundations, by helping process foundation paperwork for patients and stay on top of grant renewals to ensure uninterrupted treatment. "Our Patient Foundation Assistance program staff worked with many patients last year who were straining under the financial pressure of treating chronic or complex diseases," says Dr. Montanez. "In fact, last year we successfully linked BioPlus patients to $7.2 million in foundation grants and co-pay assistance to help cover high co-pays and deductibles."
About BioPlus Specialty Pharmacy
BioPlus is a pharmacist-owned, national specialty pharmacy providing high-touch services and specialty pharmaceuticals for bleeding disorders, cancer, hepatitis C, immune deficiencies, neuromuscular disorders, and other complex, chronic conditions. BioPlus is licensed in all 50 states and accredited by URAC, VIPPS, and Accreditation Commission for Health Care (ACHC). BioPlus is one of the nation's largest independent specialty pharmacies; patients can contact the pharmacy toll free at 1-866-514-8082.
For information: http://www.bioplusrx.com or
Contact: info(at)bioplusrx(dot)com
Phone: 1-888-292-0744