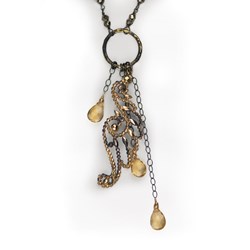 The highest quality materials, and the best stones combined with antique jewelry components.
Boston, MA (PRWEB) January 29, 2014
Just in time for Valentine's Day, Boston area craft and jewelry galleries will feature handcrafted pendant necklaces, earrings and cuff bracelets by local designer Jenne Rayburn. Each piece in the Jenne Rayburn collection is locally designed, crafted and assembled by hand at Rayburn's studio in Massachusetts.
Rayburn's designs reflect jewelry trends for stacking and layering pendant necklaces, skinny bangles and unique rings. Her inspirations include birds, bees and butterflies, metal and leather fringes and antique designs. Trained as a metalsmith and enamellist, Rayburn incorporates ancient jewelry techniques into her work, as well as antique and up cycled components from her extensive travels. Her resulting designs are crafted to accessorize contemporary and classic wardrobes.
Reflecting Rayburn's love of mixing contemporary with antique, her new work references Victorian sentimentality. "I've been gathering antique sterling silver Victorian lockets, buckles and tools, and they have influences this collection," says Rayburn. "Prior to each season I consider the components and stones available in the markets, and the fashion trends as shown at fashion week around the globe, to create unique and timely capsule collections. I only buy the best stones and utilize the highest quality materials, and now I am combining them with antiques."
Wearing great pieces of designer jewelry makes women look and feel beautiful. You can find Jenne Rayburn jewelry, handbags and scarves at the Limited Editions Gallery, in Newton Highlands, MA; the Hourglass Gallery in Melrose, MA; and the Karenna Maraj Jewelry Collection in Belmont, MA.
Visit Jenne Rayburn's collections http://www.jennerayburn.com. Visit Jenne Rayburn on Facebook http://www.facebook.com/Jenne.Rayburn.
About: Jenne Rayburn is a Boston-based jewelry/textile artist who also studied interior design and architecture, and her work explores the convergence of architecture, design, technique and identity. Balancing the demands of a career and a growing family, Jenne is a mother, wife and daughter who designs for herself and all the women in her life who want to feel uniquely beautiful and powerful. It is her hope that the wearers of her pieces will find joy in a delightful artistic statement, and also something that enhances their individuality and confidence. Her work is suitable for wedding jewelry and is carried in local galleries and online. Please visit http://www.jennerayburn.com for Jenne Rayburn's online store. For wholesale information, please visit jennerayburn.com/wholesale.com.
###