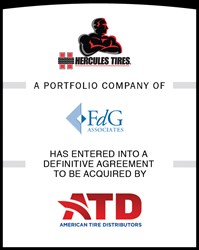 Charlotte, NC (PRWEB) January 29, 2014
BlackArch Partners is pleased to announce that The Hercules Tire & Rubber Company ("Hercules Tire" or the "Company"), a portfolio company of FdG Associates, has entered into a definitive agreement to be acquired by American Tire Distributors, Inc.
Hercules Tire is a leading marketer of replacement tires in the United States, Canada and globally.
BlackArch was retained by Hercules Tire to serve as its financial adviser on the transaction.
About Hercules Tire
The Hercules Tire & Rubber Company (http://www.herculestire.com), founded in 1952 and headquartered in Findlay, OH, operates 15 distribution centers in the United States and 6 distribution centers in Canada. In addition, Hercules Tire operates a 250,000 square foot warehouse in northern China. The Company also markets the Hercules brand, which is one of the most sought-after proprietary tire brands in the industry.
About FdG Associates
FdG Associates is a private investment firm providing equity capital to North American-based middle-market growth companies with sound businesses and unrealized potential. By building a partnership with management and offering creative problem solving and strategic, long-term planning focused around key corporate initiatives, FdG empowers companies to achieve their full growth potential and increase their equity value. FdG will typically commit from $15 million to $50 million in equity to sponsor management buyouts, recapitalizations and growth-oriented capital investments in private and public companies. The deep and diverse experience of the firm's executive team enables FdG to pursue opportunities in the business and consumer services, distribution, light manufacturing, retail and consumer products sectors. FdG is headquartered in New York, NY. For additional information, please visit http://www.fdgassociates.com.
About BlackArch Partners
BlackArch Partners is a leading middle-market investment bank offering a full spectrum of advisory services to financial sponsors, private companies and diversified corporations BlackArch addresses the needs of entrepreneurs, founders and shareholders of private companies with specialized services that include M&A advisory, strategic advisory and private capital solutions. Headquartered in Charlotte, NC, with offices in Houston, TX, BlackArch features a total of 12 industry-focused practices that cover all sectors of interest to middle-market investors; BlackArch professionals have closed over 300 transactions in 16 countries on four continents. Please visit our website, http://www.blackarchpartners.com, for more details.
Securities offered through BlackArch Securities LLC. Member FINRA and SIPC. Testimonials may not be representative of the experience of all clients. Testimonials are not a guarantee of future performance or success.