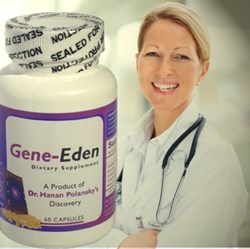 We recommend Gene-Eden-VIR to help the immune system target the latent HSV-1 and latent VZV. This natural antiviral supplement was proven to reduce herpes symptoms in a post-marketing clinical study that followed FDA guidelines. – Mike Evans, polyDNA
Rochester, NY (PRWEB) February 04, 2014
Sometimes, HSV-1 and VZV can latently infect the same nerve. If a person is infected with both viruses, they may reactivate together, and cause extreme pain. "Some evidence suggests that HSV and VZV may remain latent in the same nerve ganglion. In the study by Theil et al. in which temporal bone samples were collected from cadavers at autopsy, PCR revealed the presence of both HSV-1 and VZV in the nerve ganglion of the facial and vestibular nerves (1)." polyDNA recommends Gene-Eden-VIR against the latent HSV-1 and VZV viruses. This natural product was clinically proven to reduce symptoms of latent virus infections in a study that followed FDA guidelines.
When HSV-1 and VZV reactivate together in a facial nerve, they can cause vesicles on the lower lips, and extremely painful sores on the face (1).
Almost everyone is infected with either the oral herpes virus (HSV-1), the varicella zoster virus (VZV), or both. The CDC notes that up to 60% of the population is infected with HSV-1. (See the medical journal JAMA, from August 23, 2006) (2). In addition, the CDC also notes that "Almost 1 out of every 3 people in the United States will develop shingles, also known as zoster or herpes zoster." (See the CDC's page on herpes zoster, last updated January 10, 2011) (3).
"Most commonly, herpes type 1 causes sores around the mouth and lips (sometimes called fever blisters or cold sores). HSV-1 can cause genital herpes, but most cases of genital herpes are caused by herpes type 2." (See WebMD's page on herpes, last reviewed August 6, 2012)(2). Herpes zoster (shingles) "is caused by the varicella zoster virus, the same virus that causes chickenpox (3)." Shingles usually starts as a painful rash on one side of the face or body. The rash forms blisters that typically scab over in 7-10 days and clears up within 2-4 weeks. Before the rash develops, there is often pain, itching, or tingling in the area where the rash will develop. This may happen anywhere from 1 to 5 days before the rash appears. (See the CDC's page on shingles symptoms, last updated on January 10, 2011) (4).
"We recommend Gene-Eden-VIR to help the immune system target the latent HSV-1 and latent VZV. This natural antiviral supplement was proven to reduce herpes symptoms in a post-marketing clinical study that followed FDA guidelines." – Mike Evans, polyDNA
In a post marketing clinical study published on August 12, 2013 in the medical journal Pharmacology & Pharmacy in a special edition on Advances in Antiviral Drugs, researchers showed that Gene-Eden-VIR is safe and effective (5). Additionally, up to 70% of those studied reported a decrease in viral symptoms, and users experienced an increase in overall health (5).
Each ingredient of Gene-Eden-VIR was chosen through a scientific approach. Scientists scanned thousands of scientific and medical papers published in various medical and scientific journals around the world to identify the safest, most effective natural ingredients that target latent viruses (5).
To learn more about Gene-Eden-VIR and herpes, visit: http://gene-eden-kill-virus.com/Herpes-Remedy.php. All orders of Gene-Eden-VIR are completely confidential, and no information is shared or sold to any third party. Privacy is assured.
Reference:
(1) Concurrent Reactivation of Herpes Simplex and Varicella Zoster Viruses Confirmed by the Loop-Mediated Isothermal Amplification Assay. Published on January 8, 2014.
http://www.karger.com/Article/Pdf/358005
(2) Trends in Herpes Simplex Virus Type 1 and Type 2 Seroprevalence in the United States. Published on August 23, 2006
http://www.ncbi.nlm.nih.gov/pubmed/16926356
(3) CDC - Shingles - Overview. Last updated on January 10, 2011.
http://www.cdc.gov/shingles/about/overview.html
(4) CDC - Shingles - Signs & Symptoms. Last updated on January 10, 2011.
http://www.cdc.gov/shingles/about/symptoms.html
(5) Gene-Eden-VIR Is Antiviral: Results of a Post Marketing Clinical Study. Published on August 12, 2013.
http://gene-eden-kill-virus.com/PP_Gene-Eden-VIR-is-Antiviral.pdf
polyDNA is a biotechnology company that develops dietary supplements using the unique scientific method developed by Dr. Hanan Polansky, which is based on Computer Intuition.
In addition to his unique scientific method, Dr. Polansky published the highly acclaimed scientific discovery, called Microcompetition with Foreign DNA. The discovery explains how foreign DNA fragments, and specifically, DNA of latent viruses, cause most major diseases.
polyDNA developed Gene-Eden-VIR , an antiviral natural remedy that helps the immune system kill latent viruses.