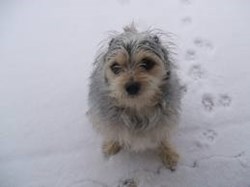 One recent news story reported that a dog's paws and tail had actually frozen to the ground when left outside overnight.
New York, NY (PRWEB) January 29, 2014
Fresh Patch—maker of the real-grass, fully disposable dog potty—is sharing cold weather tips with its customers. This has been a brutal winter so far, says the company, and dog owners need to be prepared for more bad weather ahead.
Dog owners may not know it, but their pets may be unable to follow a scent in snow and can easily become lost. According to the company, that's why it's important to keep them on a leash when out for a walk, and to use a Fresh Patch indoor potty at night, and when the weather is especially bad.
The Fresh Patch Company says that dogs need exercise, even in snow and ice, but extra care must be taken when they are walked. When dogs come inside from a walk, it is extremely important to clean their legs and stomachs to make sure they don't lick salt, anti-freeze, or other chemicals from their paws or fur. While these products help humans cope with winter weather, they are dangerous if ingested by pets. The ASPCA points out that anti-freeze is a lethal poison for dogs, and for cats too. (http://www.aspca.org)
Dog safety needs to trump dog beauty in the winter, says Fresh Patch. Winter is not a time to shave dogs, because they need the warmth of their coats when the temperature plummets. Baths should take place only indoors--followed by a brisk, thorough towel rub. Based on personal experience with his own cocker spaniel, the owner of the Fresh Patch company also recommends using a sweater to maintain a dog's body heat in cold weather.
Dogs should never be left alone in a car in winter--or any other time--and they should not be left outside in the cold for long hours or overnight. Spending the night outdoors in a pen, on a run, or in a dog house is dangerous and cruel for dogs. One recent news story reported that a dog's paws and tail had actually frozen to the ground when left outside overnight.
Puppies are particularly vulnerable in cold weather, says the Fresh Patch company, which has many customers using its product for training new pups. Just like people, dogs are not eager to venture outside in freezing temperatures. Training can be an abysmal failure if outdoor potty trips are forced on a new pup in winter.
Dog owners can also benefit from using the Fresh Patch indoor, real-grass dog potty when winter is fierce. The company suggests that dog owners can reduce their exposure to falling on snow and ice when they use Fresh Patch as an alternative to early-morning and late-night dog walks. Some areas of the country received 1-2 feet of snow during the past month, says the company, and dog owners are simply not equipped to handle their pets' bathroom needs in those conditions.