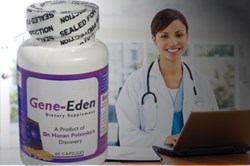 polyDNA recommends that doctors learn about Gene-Eden-VIR, which was proven to reduce symptoms of HCV infections in a post-marketing clinical study that followed FDA guidelines. - polyDNA
Rochester, NY (PRWEB) February 05, 2014
Doctors don't know why Puerto Ricans have higher rates of HCV infection than Hispanics from other countries. Mark Kuniholm, Ph.D., lead author of a study in the Journal of Infectious Diseases said, "It turns out that there's a dramatic variation in prevalence, with infection rates ranging from less than 1 percent in Hispanic men of South American or Cuban background to 11.6 percent in men of Puerto Rican background - a more than 10-fold difference. This suggests that it's not appropriate to lump all U.S. Hispanics into a single, broad at-risk group." (See ScienceCodex.com, January 14, 2014) (2). polyDNA recommends that infected individuals talk to their doctor about Gene-Eden-VIR. This natural product was clinically proven to reduce symptoms of HCV infection in a study that followed FDA guidelines.
Researchers found that "Hispanic women generally had a lower prevalence of hepatitis C infection than men, with Puerto Rican background women having the highest prevalence (3.9 percent) among Hispanic women. The prevalence of hepatitis C infection found for men in other Hispanic groups are: Mexican (1.9 percent), Dominican (1.5 percent), Central American (1 percent), South American (.4 percent), and Cuban (0.8 percent) (2)" To compare these rates, the overall prevalence of hepatitis C among men and women in the U.S. is 1.3 percent, according to the National Health and Nutrition Examination Survey (NHANES)… (2).
Study authors suggested that "Clinicians who serve Hispanic/ Latino communities may also benefit from this information because it highlights specific Hispanic/Latino groups that may benefit from increased levels of HCV testing and treatment (1)." Dr. Kuniholm said "Clearly, our findings strongly support the need for community-based campaigns to increase testing and treatment in the Hispanic population. But in our view, outreach efforts should be redoubled in those communities with large numbers of people of Hispanic background and a high prevalence of the disease. For example, if you're in Miami with its mostly Cuban Hispanic population, the cost effectiveness of extra screening may be less than in the Bronx or Chicago, which both have large Puerto Rican communities (2)."
polyDNA recommends that doctors learn about Gene-Eden-VIR, which was proven to reduce symptoms of HCV infections in a post-marketing clinical study that followed FDA guidelines.
Gene-Eden-VIR, a natural remedy, was designed to help the immune system target the latent hepatitis C virus. A study published on August 12, 2013 in the peer reviewed, medical journal Pharmacology & Pharmacy, in a special edition on Advances in Antiviral Drugs, showed that Gene-Eden-VIR reduced HCV symptoms (3).
Study authors wrote that, "Individuals infected with the hepatitis C virus…reported a safe decrease in their symptoms following treatment with Gene-Eden-VIR (3)." The study authors also wrote that, "We observed a statistically significant decrease in the severity, duration, and frequency of symptoms (3)."
To learn more about Gene-Eden-VIR, and HCV, visit http://gene-eden-kill-virus.com/HCV.php. All orders of Gene-Eden-VIR are completely confidential, and no information is shared or sold to any third party. Privacy is assured.
References:
(1) Prevalence of Hepatitis C Virus Infection in US Hispanic/Latino Adults: Results from the NHANES 2007–2010 and HCHS/SOL Studies. Published on January 13, 2014.
http://jid.oxfordjournals.org/content/early/2014/01/02/infdis.jit672.full.pdf+html
(2) Prevalence of hepatitis C infection found to vary widely among Hispanics. Published on January 14, 2014.
http://www.sciencecodex.com/prevalence_of_hepatitis_c_infection_found_to_vary_widely_among_hispanics-126081
(3) Gene-Eden-VIR Is Antiviral: Results of a Post Marketing Clinical Study. Published August 12, 2013.
http://gene-eden-kill-virus.com/PP_Gene-Eden-VIR-is-Antiviral.pdf
polyDNA is a biotechnology company that develops dietary supplements using the unique scientific method developed by Dr. Hanan Polansky, which is based on Computer Intuition.
In addition to his unique scientific method, Dr. Polansky published the highly acclaimed scientific discovery, called Microcompetition with Foreign DNA. The discovery explains how foreign DNA fragments, and specifically, DNA of latent viruses, cause most major diseases.
polyDNA developed Gene-Eden-VIR, an antiviral natural remedy that helps the immune system kill latent viruses.