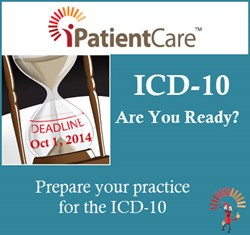 We are committed to serving numerous ambulatory group practices & Rural Health Clinics through an integrated system that combines the best of Meaningful Use Stage 2 certified & ICD-10 ready EHR, said Arnaz Bharucha, Senior Technology Officer, iPatientCare.
Woodbridge, NJ (PRWEB) January 30, 2014
iPatientCare, Inc., a pioneer in mHealth and cloud-based ambulatory EHR and integrated Practice Management solutions, announces its readiness for the transition to ICD-10. All HIPAA-covered healthcare entities are required to switch to the new code set by October 1, 2014, meaning that their EHR software and medical billing systems must be compliant. Any claims submitted with ICD-9 codes for services provided on or after the October compliance deadline will not be paid.
ICD-10 is designed to improve patient care with its detailed ability to measure the quality, efficacy, and safety of care. Looking forward, it will advance the future of healthcare by enhancing research and health-policy decisions. As a means for better management, ICD-10 will improve clinical, financial, and administrative performance in a variety of valuable ways. It will reveal important insights about practice to help for making more informed decisions. It will allow for better resource allocation by tracking the time spent on procedures and processes. It will also increase the timeliness of payments by reducing claim denials due to incorrect coding. Altogether, ICD-10 will be a change that lets you crack the code to a more productive and profitable practice.
"We are committed to serving numerous ambulatory group practices and Rural Health Clinics through an integrated system that combines the best of Meaningful Use Stage 2 certified EHR for physicians and clinicians and an efficient practice management system. Out of this commitment, we are ready to test the ICD-10 code set with our Clearing House partners and payers," said Arnaz Bharucha, Senior Technology Officer, iPatientCare, Inc.
"iPatientCare has been a pioneer in providing a unified architecture for EHR and Practice Management System to ambulatory market space. Providing excellent quality of products and support have been iPatientCare's fundamental values. As a company with commitment, iPatientCare is dedicated to supporting its customers during their practice's transition to ICD-10. This includes testing transactions, claims submissions, eligibility verification, reporting, and more. Preparing ahead of time for the transition to ICD-10 ensures readiness and guarantees that claims can be processed correctly without affecting revenue or workflow," said Vipul Patel, Senior Technology Officer, iPatientCare.
About iPatientCare
iPatientCare, Inc. is a privately held medical informatics company based at Woodbridge, New Jersey. The company is known for its pioneering contribution to mHealth and Cloud based unified product suite that include Electronic Health/Medical Record and integrated Practice Management/Billing System, Patient Portal/PHR, Health Information Exchange (HIE), and mobile point-of-care solutions that serve the ambulatory, acute/sub acute, emergency and home health market segments.
iPatientCare EHR 2014 (2.0) has received 2014 Edition Ambulatory Complete EHR certification by ICSA Labs, an Office of the National Coordinator-Authorized Certification Body (ONC-ACB), in accordance with the applicable eligible professional certification criteria adopted by the Secretary of Health and Human Services (HHS).
Full certification details can be found at ONC Certified Health IT Product List.
The ONC 2014 Edition criteria support both Stage 1 and 2 Meaningful Use measures required to qualify eligible providers and hospitals for funding under the American Recovery and Reinvestment Act (ARRA).
The company has won numerous awards for its EHR technology and is recognized as an innovator in the field, being a pioneer to offer an EHR technology on a handheld device, an innovative First Responder technology to the US Army for its Theatre Medical Information System, the first to offer a Cloud based EHR product. iPatientCare is recognized as one of the best EHR and Integrated PM System for small and medium sized physicians' offices; has been awarded most number of industry Awards; and has been recognized as a preferred/MU partner by numerous Regional Extension Centers (REC), hospitals/health systems, and academies.
Visit http://www.iPatientCare.com for more information.