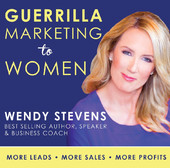 "Three quarters of 3/4 America's wealth is controlled by Baby Boomer Women in the 55+ category and are the most ignored affluent consumer group in US History ."- Wendy Stevens
(PRWEB) January 29, 2014
Wendy Stevens host of the #1 New & Noteworthy Podcast "Guerrilla Marketing To Women", and Lisa Sasevich of The Invisible Close includes an all star cast of 18 Experts share insights and marketing strategies to grow sales, and profits by tapping into a market share of a $5 Trillion Industry in her ground breaking training "How To Sell To Women".
Women account for 85% of all buying decisions – and $5 trillion in annual spending in the United States – so a business owner who knows exactly how to sell to women is likely to have more success than one who doesn't. That's why Lisa Sasevich of The Invisible Close is bringing together 18 master teachers to share their secrets to attracting,and inspiring women to say "Yes," during her live, complimentary 3-day virtual training, "How to Sell To Women," February 6 through Saturday, February 8. Watch Video here....http://youtu.be/8v4L37_tVC0
Sign up for this complimentary training here....http://bit.ly/1e4Gxrg
"85% of all consumer purchases are made by women," Stevens said, "Three quarters of America's wealth is controlled by Baby Boomer Women in the 55+ category are the most affluent consumer group in US History. Most people have never taken the time to look at their business and marketing to attract a bigger piece of that pie.
Speakers include:

Lisa Sasevich
Wendy Stevens, Guerrilla Marketing To Women
Ali Brown, Entrepreneur, Mentor, and Philanthropist
Blair Singer, Author of "Sales Dogs"
Susan Harrow, Media Coach, PR & Marketing Expert
Roger Love, The Number One Vocal Coach in America
Michelle Schubnel, Coach & Grow RICH
Natalie Ledwell, Author, Speaker and Co-Founder of Mind Movies
Jeff Vacek, Entrepreneur, Internet Marketer, Speaker and Author
Nan Akasha, High Income Strategist, Executive and Sales Coach
Christy Whitman, Founder of Quantum Success Coaching Academy
Christine Kloser, Spiritual Guide, Award-Winning Author
Margaret Lynch, Tapping/EFT (Emotional Freedom Techniques)
Eric Lofholm, Sales Training and Script Writing Coach and Expert
Nicola Bird, Founder of Self-Imaging Therapy
Linda Puig, Newsletter and Email Marketing Expert
Mary Morrissey, Life Coach and Founder of Dream Builder
"These experts bring a ton of usable tips and positioning strategies you can apply directly to your business," Sasevich said. "There is a window of opportunity right now to stake your claim in your space led by these outstanding group of elite experts."
Business owners interested in learning from these 18 experts can get the details about Sasevich's live virtual training and Wendy Stevens interview with Lisa Sasevich in, "How to Sell to Women," Watch Video here...http://youtu.be/8v4L37_tVC0
Register here http://bit.ly/1e4Gxrg
Subscribe To "Guerrilla Marketing To Women Podcast" on iTunes http://www.iTunes.com
For more information about Wendy Stevens go to http://www.CoachWendyStevens.com