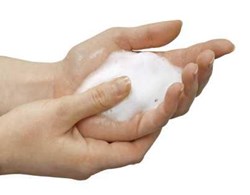 Foam hand soaps create less mess, require less water, are more environmentally friendly and last up to three times as long as normal hand soap.
(PRWEB UK) 31 January 2014
The FDA (Food and Drug Administration) has recently found that the overuse of bactericidal soaps may have adverse effects on hormone levels and could boost drug-proof bacteria. These observations were published on the FDA's consumer updates page on December 16th 2013 after the effects of chemicals found in antibacterial soap were tested on animals, and, although the same results have not been proven on humans, the FDA believes that soap companies should make the health benefits clear to balance any potential risks. The findings do not include the use of alcohol based hand sanitisers which the agency has already recognised as generally safe and effective, they are also addressing health and food prep settings separately.
With the recent findings in mind, here are some tips from us to you on what we consider proper soap usage. Given that the agency has already concluded that alcohol based soaps are safe and effective and the fact that these soaps are also available in foam variants, you may choose to opt for these soaps. The foam variants are also very low odour and like other alcohol based soaps act fast and do not require water to be used.
For general hand washing, normal liquid soaps are effective and are also available in foam variants. Few people are aware that during the hand washing process there are multiple factors that contribute to bacteria removal. The hot water that is used to rinse the soap off of your hands removes some of the bacteria and the drying process, which is best done with hand towels, removes even more.
Antibacterial soaps have their place and are the most appropriate soap to use in specific circumstances. Antibacterial soaps should always be used within a medical environment as naturally bacteria should be kept to a minimum in order to prevent infection or further illness. We also believe that antibacterial soaps are appropriate in a food preparation setting in order to minimise the spread of harmful bacteria and illness. Antibacterial soaps can be found in foam variants rather than the usual gel which is what we recommend as this creates less mess, requires less water, is more environmentally friendly and lasts up to three times as long as normal hand soap making them the perfect choice.
Vita Direct is a company based in Birtley that deal in a wide range of cleaning and janitorial products, for more information on our products visit http://www.vitadirectuk.com.
For more on the FDA's findings visit http://www.fda.gov.