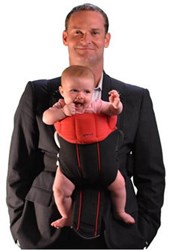 Fathers have a unique role to play in their babies' development.
Amarillo, Texas (PRWEB) January 31, 2014
On February 12 2014 as Praeclarus Press and Simkin Center are proud to bring you a live webinar, And Daddy Makes Three: Men's Adjustment to New Fatherhood. Our speaker is Dr. Daniel Singley.
This webinar synthesizes research and theory regarding how men's socialization relates to their experience navigating the transition to new fatherhood. While the majority of parent educators and medical personnel see the fathers' role during the peripartum period as that of helper to the mother, a growing body of empirical evidence shows that fathers can make unique and long-lasting contributions to their child--and their partner's--well-being. Participants will gain insight into psychological, hormonal, interpersonal, and societal factors which impact new fathers' experience along with concrete techniques to effectively involve dads from a variety of cultural backgrounds.
Dr. Singley will review research regarding the effects of paternal engagement with their infants and partners, discuss barriers to including fathers in pregnancy, birth, and caring for infants. He will review key biopsychosocial factors (including culture) to consider in order to understand how men adjust to the transition of fatherhood, and describe ways that allied health professionals can work to engage dads throughout the peripartum period.
Dr. Daniel Singley is a psychologist based in San Diego, CA. He was awarded a First Five Innovative Program grant in 2008 in order to develop the highly successful Basic Training for New Dads classes. He developed these "dads-only" classes based on evidence-based practices which help expectant dads and fathers of babies to feel confident about staying highly involved with their babies, partners, and social support network. These classes are a structured forum for new/expectant dads to connect and get information about how to optimize the transition becoming a father.
To attend this live webinar, February 12, 2014 at 1:00 p.m. EST, go to http://www.PraeclarusPress.com. This webinar will also be recorded if you cannot attend the live event. A link to the recording will automatically be sent to all participants who register.
Praeclarus Press is a small press specializing in women's health throughout the lifespan, and features books, webinars, white papers, and art. Our goal is to change people's lives. Praeclarus Press was founded by health psychologist, Kathleen Kendall-Tackett, and is based in Amarillo, Texas.