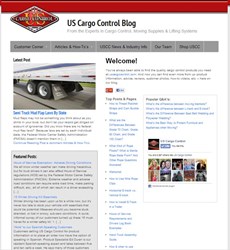 The blog has become a great place for us to share a variety of industry, company, and product content.
Urbana, IA (PRWEB) January 29, 2014
US Cargo Control, a leading supplier of cargo control products has recently launched a major revamp to its blog, offering a wider range of categorized content in a more user-friendly format.
The US Cargo Control blog was initially developed as a way to share the company's how-to videos, but has become an increasingly popular vehicle for more industry information, customer photos, and new product reviews. The new format was developed to make it easier for blog visitors to find the information they're looking for.
Tom Altman, US Cargo Control's Director of E-Commerce, says as the amount of content on the blog has increased, it became apparent that the format needed an update to make it more user-friendly.
"The blog has become a great place for us to share a variety of industry, company, and product content," said Altman. "Because we serve such a variety of industries--from transportation to professional moving companies--we knew we had to better segment the posts for easier navigation."
The updated format also encourages customer engagement. A new 'Customer Corner' category shares customer photos, questions, and product reviews, while a 'Meet the Team' category allows customers to learn more about the sales team.
"This expansion of blog content meshes with our social media initiatives we've been working to grow over the past six months, and have included Facebook, Pinterest, Instagram, Twitter, and LinkedIn," said Altman. "Social sharing is becoming more important than ever, so having this library of content to share with our fans across social media is a smart, efficient way we can connect with our customers."
###
About US Cargo Control
US Cargo Control is a leader in the cargo control industry, specializing in lifting slings, cargo control, rigging equipment and moving supplies. Focused on offering quality products, timely delivery, and an excellent customer experience, customers can purchase products on the company's website, http://www.USCargoControl.com or by phone at 866-444-9990.