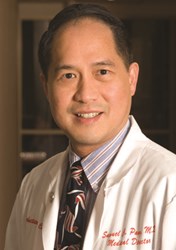 Lexington, MA (PRWEB) January 30, 2014
Samuel Pang, MD, Medical Director, of Reproductive Science Center of New England (RSC) was a featured speaker at the Resolve New England Connect and Learn Conference on January 25, 2014 in Waltham, MA. Dr. Pang discussed in detail the medical aspects of in vitro fertilization (IVF) using donor egg and the surrogacy process. Many couples need donors to provide the high quality eggs they lack so they have the greatest chance of a successful outcome or a healthy baby.
During the first part of Dr. Pang's seminar, he talked about key indications for donor egg. Donor egg is used when the intended mother does not have quality eggs to fertilize because any of four conditions are present: premature ovarian failure, absence of ovaries, advanced reproductive age or genetic disease. Then Dr. Pang talked about the donor selection, screening and evaluation process for an "ideal" egg donor.
RSC is one of only four founding members of MyEggBank North America which was the first and now the largest bank of frozen donor eggs in the country. MyEggBank at RSC has very stringent criteria for donor selection and offers the most diverse bank of frozen eggs available for intended mothers. Frozen eggs provide about a 60% success rate which is virtually the same as fresh eggs.
Gestational surrogates were discussed during the second half of Dr. Pang's seminar. Gestational surrogates are women who meet very strict criteria and agree to carry the baby for the intended mother because she is not able to carry a baby herself. The selection, screening, evaluation and testing of gestational surrogates was then presented by Dr. Pang.
**********************************************************************************
Reproductive Science Center (RSC) of New England is a Top 10 Fertility Treatment Center with a 25 year history, award-winning physicians and Center of Excellence distinctions ensuring patients receive the highest quality care and best outcomes throughout their journey to parenthood. RSC provides comprehensive diagnosis, consultation and treatment for infertility. RSC New England has 11 offices in Massachusetts, New Hampshire and Rhode Island and is a member of IntegraMed Fertility, the largest national network of infertility treatment providers in the U.S.