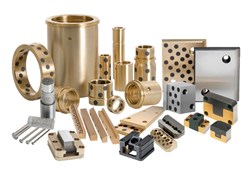 Coopersville, MI (PRWEB) January 31, 2014
Component manufacturer SelfLube announced its 2014 event schedule of Mold and Die Industry trade shows at which it will be exhibiting its products. These include:

Plastec New England - Boston March 26 - 27
This plastics event should be of interest to area mold builders. SelfLube will be showing its products in Booth 401.
Mexico's Supply Chain Manufacturing Summit - El Paso March 27 - 28
This event will be of interest to Mexican companies looking for U.S. based suppliers. SelfLube will be there to meet with companies needing a source for precision mold and die components.
American Mold Builders Convention - Milwaukee May 14 - 16
This is a must for companies in the mold building industry. SelfLube will be there and showing its products.
Amerimold Expo - Novi June 11 - 12
This mold event in suburban Detroit has been a regular for SelfLube. This will be the company's 15th year of exhibiting. Look for SelfLube at Booth 316.
Fabtech Expo - Atlanta November 11 - 13
This event relates to the metal forming and welding industries and should be of interest to area die makers. SelfLube will be exhibiting its products in Booth B1024.
SelfLube is the leading U.S. manufacturer of mold and die components. Over the years, it has built a solid reputation for quality and customer service. Located in Western Michigan, it supplies mold and die shops throughout the U.S. and Canada. For information on these events, feel free to visit SelfLube's upcoming events located on the left panel of SelfLube's website.