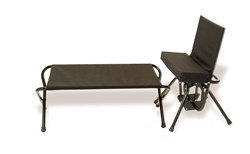 The IntimateRider has been helping couples overcome physical challenges and disabilities for years.
Burnsville MN (PRWEB) January 30, 2014
IntimateRider announces that its original product, aptly named IntimateRider, will be demoed at the Los Angeles Abilities Expo. Dr. Rafe Briggs, founder of Sexability, an organization that's committed to educating and helping people with physical disabilities to create intimate and loving relationships, will demo the IntimateRider at the expo.
Scheduled to be held February 28 through March 2, 2014 at the Los Angeles Convention Center, the Abilities Expo is the go-to source for people with disabilities, healthcare professionals, disabled military veterans, seniors and their family members. This is the 30th year that the conference has been held.
Headquartered in Minnesota, IntimateRider has a national distribution. The company uses patented technology to develop healthy, safe sex products for men and women with physical disabilities. A company executive shares that, "The original, revolutionary IntimateRider has been helping couples overcome physical challenges and disabilities for years." He continues, "The IntimateRider's patented technology allows you to achieve a broader range of motion with minimal effort, allowing you and your partner to unleash your intimacy in a way that was not possible before - the way you deserve."
According to Disabled World, 36 million Americans have a disability. That makes up 12 percent of the total American population. Of these people, 19.4 have a physical disability that makes it difficult or impossible for them to walk or climb stairs. Dr. Rafe Briggs commits to demoing the IntimateRider at the expo, in part, because an injury he suffered in 2004 while visiting India caused him to become a quadriplegic, limiting his movement from the chest down. In addition to managing Sexability, Dr. Briggs has been featured on TLC's "Strange Sex - Surrogate Manhood" television program.
At the Abilities Expo in Los Angeles, new and advancing technologies, ability enhancing services and products like the IntimateRider and new solutions and opportunities for people living with physical disabilities will be introduced. Event organizers reveal that attendees will "have the opportunity to test drive cutting-edge devices to determine what meets your individual needs." Expo attendees will also be able to play adaptive sports, learn new dances and attend engaging and informative sessions.
About IntimateRider
IntimateRider (http://www.intimaterider.com), is a division of Health Postures, a premier designer and manufacturer of health products, including workplace ergonomics and sexual positioning products for physically disabled men and women. IntimateRider products are designed to help adults with arthritis, multiple sclerosis, cerebral palsy, spinal cord injuries, joint replacements and other physical challenges to realize more fulfilling intimate relationships. The products have been on the market since 1996.
Contact:
IntimateRider
14310 Ewing Avenue South, Suite 100
Burnsville, MN 55306
952-873-6136
http://www.intimaterider.com
About Sexability
Sexability was founded in 2006 by Dr. Rafe Briggs. The company is committed to "empowering people with disabilities to expand sexuality and create intimate, loving relationships." Toward this goal, the company host support groups and leads educational seminars on topics such as self-identify, self-image and body image; desires and communication; dating with disability; maintaining a healthy sex life and family planning.
Sources:
http://www.abilitiesexpo.com/losangeles/index.html
http://www.sexability.org
http://www.disabled-world.com/disability/statistics/census-figures.php