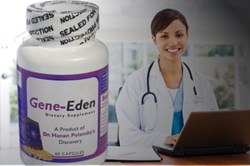 Gene-Eden-VIR is designed to help the immune system target the latent HPV virus. In addition, it was proven to reduce HPV symptoms in a post-marketing clinical study. - polyDNA
Rochester, NY (PRWEB) February 06, 2014
polyDNA is a leading developer of natural remedies. "Since The United States Congress designated January as Cervical Health Awareness Month, we recommend that women across America ask their doctors about Gene-Eden-VIR. Additionally, we've lowered our price by 50% for this month. See our conditions below." – Mike Evans, polyDNA
As Donna Burkett, Medical Director of Planned Parenthood of Northern New England noted, "Cervical cancer is a preventable disease and women should talk with their doctors or other health care providers about what they can do to take care of their health." (See PortlandDailySun.me, from January 22, 2014) (1).
Most health authorities recommend that women take simple steps to reduce their risk of cervical cancer and exposure to the human papilloma virus. These steps include, "consistent and correct condom use and receiving an HPV vaccine (1)."
However, the FDA says that the HPV vaccine "is approved for use in females ages 9-26 years." (See the FDA's website, last updated August 12, 2013) (2). In addition, the American Cancer Society says that Gardasil vaccination may not work for certain groups. For example, "The vaccine has not been tested in women who have had more than 4 sexual partners… At this time ACS has no recommendations for women over age 26 or for males of any age…. The vaccines don't protect against all cancer-causing types of HPV, so cervical cancer can happen even in women who have been vaccinated." (See Cancer.org, last revised April 10, 2013) (3). This means that there are significant numbers of women that still need an effective and safe remedy for an HPV infection.
For these women, polyDNA recommends Gene-Eden-VIR. A study found that "There are no drugs approved against the HPV. Current treatments include procedures, such as cryotherapy, conization, and the Loop Electrosurgical Excision Procedure (LEEP). These procedures use liquid nitrogen, a surgical knife (scalpel), a carbon dioxide (CO2) laser, or electrical current to remove the abnormal growths caused by the HPV. These growths include cells that harbor the active virus. The procedures do not target cells with the latent virus. Since they do not remove the latent virus, these procedures only produce a temporary remission." (See the journal Pharmacy & Pharmacology, from August 12, 2013) (4).
"We recommend that individuals infected with the latent HPV virus ask their doctors about Gene-Eden-VIR." - Mike Evans, polyDNA
In addition, when someone who suffers from an HPV infection buys Gene-Eden-VIR at full price, he or she can then write in to polyDNA using the E-mail address provided on polyDNA's website. In that E-mail, that person should provide a doctor's note regarding their diagnosis. polyDNA will then refund that person 50% of the full price of his or her purchase.
Gene-Eden-VIR is a safe, natural product that was proven to reduce HPV symptoms in a clinical study published in the peer reviewed, medical journal Pharmacology & Pharmacy, in a special edition on Advances in Antiviral Drugs on August 12, 2013.
The study showed that Gene-Eden-VIR reduced HPV symptoms and was safe and effective (4). "Up to 70% of those studied reported a decrease in HPV symptoms (4)."
Each ingredient of Gene-Eden-VIR was chosen through a scientific approach. Scientists scanned thousands of scientific and medical papers published in various medical and scientific journals around the world to identify the safest, most effective natural ingredients that target the latent form of HPV (4).
To learn more about Gene-Eden-VIR and HPV, visit http://gene-eden-kill-virus.com/HPV-Remedy.php. All orders of Gene-Eden-VIR are completely confidential, and no information is shared or sold to any third party. Privacy is assured.
Reference:
(1) Maine women urged to be screened for cervical cancer, HPV. Published on January 22, 2014.
http://www.portlanddailysun.me/index.php/newsx/news-briefs/11220-maine-women-urged-to-be-screened-for-cervical-cancer-hpv
(2) FDA - Gardasil (Human Papillomavirus Vaccine) Questions and Answers - Gardasil, June 8, 2006. Last reviewed on August 12, 2013.
http://www.fda.gov/BiologicsBloodVaccines/Vaccines/QuestionsaboutVaccines/ucm096052.htm
(3) American Cancer Society Recommendations for Human Papilloma Virus (HPV) Vaccine Use to Prevent Cervical Cancer and Pre-cancers. Last revised April 10, 2013.
http://www.cancer.org/cancer/cancercauses/othercarcinogens/infectiousagents/hpv/acs-recommendations-for-hpv-vaccine-use
(4) Gene-Eden-VIR Is Antiviral: Results of a Post Marketing Clinical Study. Published on August 12, 2013.
http://gene-eden-kill-virus.com/PP_Gene-Eden-VIR-is-Antiviral.pdf
polyDNA is a biotechnology company that develops dietary supplements using the unique scientific method developed by Dr. Hanan Polansky, which is based on Computer Intuition.
In addition to his unique scientific method, Dr. Polansky published the highly acclaimed scientific discovery, called Microcompetition with Foreign DNA. The discovery explains how foreign DNA fragments, and specifically, DNA of latent viruses, cause most major diseases.
polyDNA developed Gene-Eden-VIR , an antiviral natural remedy that helps the immune system kill latent viruses.