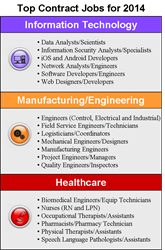 The Top Contract Jobs list was compiled based on TEC's own contract placement statistics, industry data, and conversations with recruiters.
Canton, Ohio (PRWEB) February 04, 2014
Contract staffing growth is outpacing job growth in the rest of the economy five times over. A recent blog post by contract staffing back-office provider Top Echelon Contracting, Inc., (TEC) lists which positions are driving that growth.
TEC specifically looked at positions in Information Technology (IT), Manufacturing/Engineering, and Healthcare because those are among the top industries for contract staffing. The list was compiled based on TEC's own contract placement statistics, industry data, and conversations with recruiters.
According to TEC's research, the hot contract staffing opportunities for 2014 are expected to be in the following positions:
Engineering/Manufacturing

Engineers (Control, Electrical and Industrial)
Field Service Engineers/Technicians
Logisticians/Coordinators
Mechanical Engineers/Designers
Project Engineers/Managers
Quality Engineers/Inspectors
Information Technology

Data Analysts/Scientists
Information Security Analysts/Specialists
iOS and Android Developers
Network Analysts/Engineers
Software Developers/Engineers
Web Designers/Developers
Healthcare

Biomedical Engineers/Equip Technicians
Nurses (RN and LPN)
Occupational Therapists/Assistants
Pharmacists/Pharmacy Technician
Physical Therapists/Assistants
Speech Language Pathologists/Assistants
The positions listed reveal trends within each industry. For example, the hot Engineering/Manufacturing contract positions show the industry's need for highly skilled workers as manufacturing operations become more automated. The positions in demand for Information Technology indicate the popularity of the Internet and mobile devices, as well as companies' need to collect and understand larger amounts of data. In Healthcare, therapy continues to be a hot area for both contract staffing and direct hire.
"Our contract placements statistics confirm there will also be continued contract staffing growth in the Finance and Accounting and Business Professional and Support Staff sectors along with Legal, Human Resources, and Contract Recruiting," said Debbie Fledderjohann, President of Top Echelon Contracting.
About Top Echelon Contracting: Established in 1992, Top Echelon Contracting (TEC) helps recruiters offer contract staffing to clients and candidates. TEC removes the financial, administrative, and legal burden from recruiters as they make contract placements by becoming the W-2 employer of their contractors. As such, they handle legal contracts with the clients and candidates, timesheet collection and tracking, payroll processing and funding, Unemployment, Workers' Compensation, benefits administration, employment paperwork, contractor issues, invoicing and collections, and more.