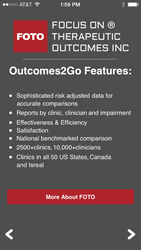 The project was developed to enable customers to more easily market their strengths – to better leverage the investment they have made in measuring outcomes and managing quality.
Knoxville, TN (PRWEB) February 04, 2014
Focus on Therapeutic Outcomes, Inc. (FOTO) is introducing its Outcomes2Go for your smartphone and mobile device and the MyFOTO website widget designed to help rehab industry professionals market their success in functional outcomes quality, efficiency, and patient satisfaction scores.
Both are part of a new marketing platform the company is launching in February that aims to make sharing the strengths of an organization, clinic, or clinician simple and convenient. Managers, owners, and clinicians will be able to configure these tools to display only the strengths they want for an immediate or target audience - a referral source, payer, colleague, patient, or website visitor.
"We want our customer's strengths in outcomes to be remarkable in informal conversation, simple and just-in-time for an elevator pitch, easily sharable in social media, and unique and powerful in a more formal presentation," stated Curtis Jones, FOTO's COO. "Our customers will be better able to leverage the investment they make in measuring outcomes and managing quality."
Both Outcomes2Go and MyFOTO will display a customer's national ranking of functional outcome scores for different body parts or impairments, care types, and published ranking periods – both quarterly and annually. Users will have the option to show results of the entire organization, individual clinics, or clinicians.
Using its risk adjustment algorithms, and drawing on a large database of over 6 million patient surveys, FOTO publishes benchmarked reports to compare an organization, clinic, or clinician in an apples-to-apples way against 2500 member clinics and over 10,000 clinicians across the United States.
"We've found over the years that just about every organization has strengths that they can highlight – clinics or clinicians that are leaders in a certain body part, care type, or impairment," states FOTO's President, Al Amato, PT, MBA. "Now they can show impressive comparisons against a large and diverse national sample as published by a neutral third party. FOTO will continue to roll out products that help our customers efficiently and accurately measure outcomes, manage quality, and market their strengths. Outcomes2Go and MyFOTO are our latest product to help us fulfill our mission to our customers and our industry."
Rehab professionals interested in learning more about Outcomes2Go and MyFOTO can contact sales(at)fotoinc(dot)com. 800-482-3686 x238. Current FOTO customers can contact support(at)fotoinc(dot)com 800-482-3686 x234 for additional information on how to take a test drive.
About FOTO:
FOTO is a Knoxville, TN, based corporation that has been continuously improving solutions that efficiently and reliably measure and report functional outcomes for the rehab industry for 20 years. FOTO's web-based solutions are risk-adjusted to enable fair and accurate measurement and predictions of the expected improvement in a patient's functional status. Approximately 6 million patient surveys have been compiled in the FOTO database, and researchers have utilized FOTO data to publish over 85 articles on functional outcomes in refereed medical journals. These publications have led the way in enhancing the science of measuring outcomes and the use of outcomes in payment methodologies. FOTO is considered the standard in measuring functional outcomes in Rehabilitation.
For detailed information about FOTO's products contact sales(at)fotoinc(dot)com or call 1-800-482-3686 x238.