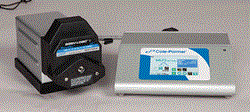 Vernon Hills, IL (PRWEB) January 30, 2014
Versatility describes the new Cole-Parmer® Touch-Screen Peristaltic Dispensing Pump with Masterflex® L/S® Easy-Load® II Pump Head. The pump dispenses via the user's choice of program, including constant flow rate, stepped flow, ramped flow, and pulsed flow. Users can pump by volume or time, with a flow range of 0.001 to 1500 mL/min with Masterflex L/S pump tubing. Programs can also be linked and steps repeated.
This peristaltic pump is easy to program with an intuitive touch-screen monitor. Quickly set up single- or multiple-step programs depending on the application. The controller stores up to 50 programs with up to 20 steps each, with recall for later use. Programs can also be transferred and stored on a PC for retrieval and validation of experimental protocols.
Users can change tubing quickly with the included Masterflex Easy-Load II pump head with automatic tubing retention. The pump controller is preprogrammed with maximum and minimum flow rates to accept all Masterflex tubing sizes. The tubing calibration function ensures flow accuracy and allows the user to select calibration volume based on volume dispensed.
Additional features include screen lockout to prevent inadvertent program changes, forward and reverse prime to rapidly fill or purge tubing, and user-selectable restart function in case of a power outage.
To find out more about the Cole-Parmer® Touch-Screen Peristaltic Dispensing Pump with Masterflex® L/S® Easy-Load® II Pump Head, call 800-323-4340 or go to http://www.coleparmer.com/20784.
Cole-Parmer has been a leading global source of laboratory and industrial fluid handling products, instrumentation, equipment, and supplies since 1955. Our product lines, including popular brand names such as Masterflex®, Oakton®, and more, are sold through company-owned customer channel outlets and a strong network of international dealers. We also feature an ISO-17025-accredited metrology lab for instrument calibration and repair. Cole-Parmer responds with excellence to customer needs, and offers application expertise and technical support. For more information, contact Cole-Parmer, 625 East Bunker Court, Vernon Hills, IL 60061. In the US, call 800-323-4340. International customers, call 847-549-7600. Visit us at ColeParmer.com.