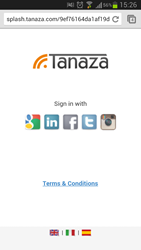 I was online in less than 20 seconds. Facebook login works like a dream, as do all other Tanaza options.
Milan, Italy (PRWEB) January 29, 2014
Free Wi-Fi has always been a great marketing tool for restaurants and eateries. This trend was popularized by Starbucks and other coffee shops and eventually spread to other players in the hospitality industry as well. This idea behind offering Wi-Fi was to attract customers to a particular store.
The widespread use of social media made it a necessity for businesses to offer Wi-Fi, and through this freebie, they wanted to get a wider publicity. Until today, setting up a Social Media Wi-Fi hotspot was quite complex, or required expensive hardware, in most cases provided by Cisco, very expensive for small and medium businesses (SMBs), so many of them had to opt out of this marketing tool. To fill this gap, Tanaza (http://www.tanaza.com) created a software that makes it possible for SMBs to upgrade consumer grade Wi-Fi Routers and Access Points, adding Social Login capabilities. It is literally possible to take a $15 TP-Link unit and convert it into a Facebook Wi-Fi hotspot.
Other than Facebook, Tanaza also offers check-in for other social media sites such as Google+, LinkedIn, Instagram and Twitter, as well as lots of customization options. Tanaza provides a nice web-based tool to change logo and colors, select among different languages, decide the level of engagement required, e.g. a Like, display an image or even a video advertisement before providing access to Internet. A video of the Tanaza Dashboard and Social Login is available here:
http://blog.tanaza.com/blog/bid/334007/Facebook-Twitter-Social-Login-for-your-Wi-Fi-just-released.
A group of Lead Users, made up of Wi-Fi System Integrators and Managed Solution Providers working in the Hospitality, Restoration, Retail and Marketing Agencies space in more that 20 countries, have been extensively testing the new Social Login capability during the last weeks, and provided great feedback that allowed the Tanaza engineers to improve the solution and make it extremely easy to use.
"We have been asked to add the possibility to export the list of contacts that request access to Internet," says Joanna Wall, Channel Manager in Tanaza, "especially by agencies providing marketing services: they like to be able to call customers by name… so we just added this feature to the Dashboard."
Sebastiano Bertani, CEO of Tanaza, concludes, "Tanaza allows creating a social media hotspot in 5 minutes, using 3rd party Wi-Fi Access Points that anyone can already have in house, such as TP-Link or Ubiquiti (a full ist of supported devices is available here: http://www.tanaza.com/supported-devices). And the interface is very easy to use: it takes care of all the Wi-Fi networking configuration behind the scenes, so that it's possible to just focus on the design and user experience customization, which is what our retail, restaurant or café consider relevant at the end of the day."
Mark Lock, Surfbay UK, commented, "I cannot praise the system more highly. Wonderful, so easy to use, and was online in less than 20 seconds. Facebook login works like a dream, as do all other options."
About Tanaza
Founded in 2010, Tanaza's mission is to make Wi-Fi management easy and affordable, enabling remote management of any vendor access points in multiple locations through one intuitive interface.
A demo, trial or quotation is available by contacting your local Tanaza Channel Partner or Tanaza http://www.tanaza.com, sales(at)tanaza(dot)com or +39 02.8718.8553.