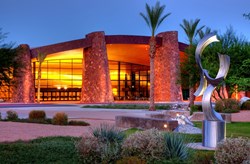 Palm Springs, California (PRWEB) January 31, 2014
During Presidents' Day Weekend and Modernism Week, thousands of interior designers and art lovers will be attending two shows taking place at the Palm Springs Convention Center to shop for vintage furniture, decorative arts, and to meet with artists and designers.
The 3rd Annual Palm Springs Fine Art Fair
Dates: February 13-16, 2014
Location: Palm Springs Convention Center - 277 N. Avenida Caballeros, Palm Springs
Information: http://www.palmspringsfineartfair.com
Description: The 3rd Annual Palm Springs Fine Art Fair is a virtual pop-up museum of contemporary art showcasing 55 galleries from 33 US cities and 6 countries with the best in contemporary art from Karel Appel, Le Corbusier, Henry Jackson, Frank Stella, Picasso, Chul Hyan Ahn and many more. This is quickly becoming the must see show of the winter art fair circuit. Day passes are $25, Weekend Pass $40 and VIP passes are $125.
The 14th Annual Palm Springs Modernism Show & Sale
Dates: February 14-17, 2014
Location: Palm Springs Convention Center - 277 N. Avenida Caballeros, Palm Springs
Information: http://dolphinfairs.com/palmsprings
Description: The largest Modernism Show & Sale in North America with the most prestigious collection of over 85 international and national decorative and fine art dealers of all design movements of the 20th century. Admission is $20 per person at the door for regular show hours. Tickets are also available for the Preview Gala and early-buying opportunity from 6 p.m. to 9 p.m. on Friday, February 14th benefiting Modernism Week.
Palm Springs has the largest concentration of mid-century modern architecture in the country, and to pay tribute to these desert landmarks, the 9th Annual Modernism Week will take place February 13-23, 2014 at various locations in Palm Springs. This 11-day festival celebrates mid-century modern design, architecture, art, fashion and culture. Over 150 events are scheduled including home tours, films, lectures, double decker architectural bus tours, nightly parties and live music, walking and bike tours, a Prefab Showcase and Modern Living Expo, tours of Sunnylands, vintage fashion, classic cars, garden tours, a vintage travel trailer exhibition, and more. For tickets and event schedule, please visit http://www.ModernismWeek.com.
Guided tours are available year-round in Palm Springs for visitors to learn about the local architecture and the notable architects who put modernism on the map. Modernism flourishes in numerous chic, boutique stores in downtown and uptown design district selling mid-century modern furnishings, vintage clothing, art and estate treasures.
For information about desert modernism and upcoming special events in Palm Springs, go to the official Palm Springs visitor website, http://www.VisitPalmSprings.com or call (800) 347-7746.