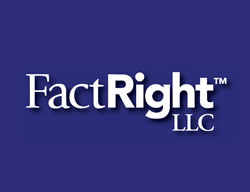 Barbara has long been an advocate of the alternative investment industry through her involvement in leading organizations like REISA.
Minneapolis, MN (PRWEB) February 03, 2014
FactRight LLC, a leading provider of third party due diligence services to the alternative investment industry, has announced the election of a Founding Principal, Barbara Halper, to the Real Estate and Investment Securities Association 2014 Board of Directors.
As a practicing attorney with 25 years of involvement in commercial real estate, as well as 10 years spent focused on due diligence and risk management related to complex products, Halper brings invaluable experience to the REISA board. She was elected on a platform of advancing risk assessment and management for REISA members through her work on educational programs, networking, and her focus on the best interests of investors.
"Barbara has long been an advocate of our industry through her involvement in leading organizations like REISA," said Scott Smith, President and CEO. "I believe her dedication and passion to serve the members of REISA will leave a positive impact on the association and on the alternative investment industry as a whole."
REISA serves alternative investment and securities industry professionals by providing education, information on industry trends, promoting high ethical standards, and providing networking opportunities, and resources for members.
About Fact Right LLC
Founded in 2006, FactRight is an innovative service organization providing out-sourced risk management and analytical due diligence to the alternative investment community. The FactRight team features highly credentialed professionals who each specialize in different disciplines. Our staff includes licensed attorneys, certified public accounts, certified fraud examiners, internal auditors, charter financial analysts, and former due diligence officers of financial services firms. Our multidisciplinary approach enables us to fill in risk management and due diligence voids faced by many of our clients. And, by having a partner that proactively keeps pace with an ever-changing industry, independent broker-dealers can be confident that they have the guidance they need to meet regulatory challenges.
Additional information, including details on our sister company, FR Risk Management, can be found by visiting http://www.factright.com.