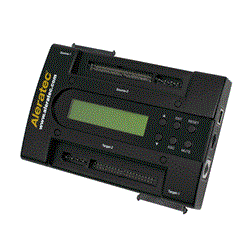 Bringing Aleratec's hard disk drive duplicators to our customer base is really exciting for us.
Exton, Pennsylvania (PRWEB) January 30, 2014
Media Supply, one of the nation's premier providers of publishing, recording and storage systems, equipment and services to the media industry, and Aleratec, Inc., the leading provider of professional-grade duplicators for hard disc drives, USB flash drives and BD/DVD/CD discs, today announced Media Supply's partnership with the Aleratec's US Reseller Program. Media Supply will be delivering Aleratec's quality product line to its established base of government, corporate, educational and individual customers.
Beginning January, 24 2014, Aleratec's line of quality computer hard disk drive duplicators will be released on the MediaSupply.com website. In subsequent weeks, Aleratec's USB Flash Drive Duplicators, DVD/CD & Blu-ray Duplicators, Optical Disc Printers and accessories will be released on MediaSupply.com. MediaSupply.com has become an established and online source for quality data storage and publishing products
"Bringing Aleratec's hard disk drive duplicators to our customer base is really exciting for us," said Frank Quinlisk, Media Supply's President. "Our customers have grown to count on Media Supply as a reliable business partner, and being able to provide them hard disk copying and sanitizing solutions from a reliable manufacturer is something we've been looking to do for years."
"Aleratec chooses its resellers very carefully based on experience in the field, product knowledge and commitment to customer service," said Perry Solomon, Aleratec's President & CEO. "Media Supply Inc. has been a supplier of digital duplication products for over 25 years.  Not only do they meet our strict requirements, they share Aleratec's goal of providing the most reliable products to government, education and corporate customers. This is a great match and we're pleased to partner with them."
The Aleratec line of standalone hard disk duplicators include units which are also hard disk sanitizers and hard disk docks. These industrial designed units can create from 1 to 24 clone hard disk drives simultaneously at speeds up to a blazing 120MB/s. Aleratec hard disk copiers provide a sector-by-sector copy from a single source hard disk, and are available in portable 1 to 1 duplicators, all the way up to 24 drive units. Copiers are available for IDE and SATA based hard disks
Units are available that can also securely clear all the date from up to 25 drives at one time with a "Secure Erase," or with one of 3 available complete sanitization algorithms: a one-pass wipe, a three-pass wipe with verification, or a comprehensive DoD 5220.22-M seven-pass overwrite. Independently verified by a leading hard drive recovery service, the data wiped in the seven-pass overwrite has been confirmed to be "permanently destroyed," and meet the criteria of the NIST 800-88 (National Institute of Standards and Technology.)
Aleratec's full line of hard disc disk duplicators and sanitizers are available now for order through Media Supply, and can be found on Media Supply's website at http://www.mediasupply.com/hard-drive-duplicators-and-sanitizers.html.
About Media Supply:
Media Supply, Inc. offers duplication equipment, consumables, services solutions, designed to meet the requirements of those wishing to distribute products and information in data, audio or video form. The company's key products and services are premium blank media & publishers, custom USB flash drives, data and audio duplication services, USB duplicators, duplication and duplication supplies. Media Supply is headquartered in Exton, Pennsylvania. For more information, visit their website at http://www.mediasupply.com or call 1.800.944.4237.
About Aleratec Inc.:
Aleratec designs, develops and manufactures high-performance products acclaimed for their reliability and ease-of-use. Beginning in 2000, California-based Aleratec has met the needs of professionals in education, government and corporate markets with a diverse product line that includes professional-grade duplicators for hard disk drives, USB flash drives and BD/DVD/CD discs, as well as disc printers, blank media, shredders, disc repair and related accessories. Aleratec also designs, develops and manufactures portable device management (PDM) products for iOS, Android, and other tablets and USB-charged devices. For more information, please visit http://www.Aleratec.com or contact us toll free at 866-77-ALERATEC (866-772-5372).