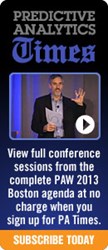 PAW and the Predictive Analytics Times are proud to offer this complete, rich event program to all viewers at no charge.
Boston, MA (PRWEB) January 30, 2014
The Predictive Analytics Times has launched a suite of hosted videos from Predictive Analytics World Boston 2013, now available online at no charge.
Subscribers may now view all PAW Boston keynotes and sessions online at: http://www.predictiveanalyticsworld.com/patimes/paw-conference-videos.
"PAW and the Predictive Analytics Times are proud to offer this complete, rich event program to all viewers at no charge," said Eric Siegel, Conference Founder. "Even those Predictive Analytics Times subscribers who didn't make it to Boston last fall can still watch each and every session!"
Like many content providers, the Predictive Analytics Times has amassed a rich video library and original content articles, including interviews with predictive analytics stars such as Ari Kaplan.
This new partnership between the online portal and PAW is designed to provide subscribers with industry leading insight and real-world case studies. Viewers have the freedom to pick and choose the most relevant sessions, including hot topics such as:

Persuasion Modeling
Healthcare Analytics
Internet Security
Customer Insights
Uplift Modeling
... and other advanced topics
"We recognize that some may not be able to spare the time or money to attend our event each year," noted Adam Kahn, the portal's publisher. "Video gives them the chance to experience PAW on their own time, with their own device, in their choice of setting. Although it can't compete with meeting our world-class speakers face-to-face, it's pretty slick."
About the Predictive Analytics Times
The Predictive Analytics Times has quickly become the online destination for the rapidly evolving predictive analytics community. This portal is committed to the advancement of the predictive analytics community. Its team is dedicated to creating a content portal that offers timely and relevant articles, blogs, whitepapers and webinars, ensuring that it remains your resource for industry leading content and information.
To view the Predictive Analytics Times, visit http://www.predictiveanalyticsworld.com/patimes.
About Predictive Analytics World
Predictive Analytics World is a world-renowned, business-focused event for predictive analytics professionals, managers and commercial practitioners. This conference delivers case studies, expertise and resources to achieve:
Bigger wins: Strengthen the impact of predictive analytics deployment
Broader capabilities: Establish new opportunities in data science
Big data: Leverage bigger data for prediction and drive bigger value
The only conference of its kind, Predictive Analytics World delivers vendor-neutral sessions across verticals such as banking, financial services, e-commerce, entertainment, government, healthcare, high technology, insurance, non-profits, publishing and retail.
About Rising Media
Rising Media is a global events producer excelling in Internet and technology-related conferences and exhibitions. Rising Media-produced events include Data Driven Business Week, the eMetrics Summit, Context Conference, Conversion Conference, Predictive Analytics World, Text Analytics World, Affiliate Management Days, Building Business Capability, Social Media Economy Days, Web Effectiveness Conference, Search Marketing Expo, SemTech and Social Gaming Summit in the US, Canada, UK, France, Germany, Sweden, Finland and Australia.