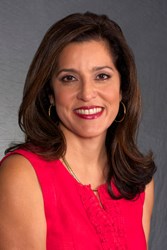 Miami, FL (PRWEB) January 29, 2014
The MIAMI Association of REALTORS, the largest local Realtor association in the nation, has elected Liza Mendez, CDPE, CIPS, CRB, CRS, e-Pro®, TRC, Pedro Realty International, as its 2014 Chairman of the Board. She and the entire Board of Directors will be installed at the sold-out Annual Inaugural & Awards Luncheon at Jungle Island on January 31, 2014. In addition to the leaders being installed, award winners, sponsors and affiliates, the event attracts 900 attendees. MIAMI represents over 31,000 residential, commercial, and international real estate professionals.
The MIAMI Board is dedicated to leadership in the industry, the real estate profession, and the communities they serve. MIAMI leaders impact key policy decisions and important issues affecting the industry, analyze information, and are actively and visibly involved in real estate related issues, events, and programming.
A local expert, Liza Mendez, has been in real estate since 1982. She graduated from the University of Miami in 1985 with a BBA in Marketing. With over 30 years of experience, Liza has benefited from the experience of being involved in a family-owned business. Pedro Realty, Inc. was started by her father, Pedro F. Hernandez over 43 years ago. He started in the real estate business in 1968 and was one of the first successful Hispanic real estate business owners in South Florida. The company now operates as Pedro Realty International serving all of Miami-Dade County and portions of southwest Broward County.
Fluent in both English and Spanish, Liza has dedicated her career to helping those with residential, commercial, property management and international real estate needs in Miami-Dade and Broward. She continues to educate herself, garnering a variety of important designations within the real estate industry, and consistently participates in classes and attends seminars, workshops and events to gain more insight into the real estate markets she serves to provide ultimate service to her clients.
During the course of her career, Liza has been recognized as the 1999 REALTOR® of the year for RAMB (REALTOR® Association of Greater Miami and the Beaches) and served as the organization's Residential President in 2003. In addition, she has served as a consultant for a film on the Miami real estate investor market; teaches the Code of Ethics class for MIAMI; appeared on CNN, Univision and Telemundo television networks for real estate commentaries; served as media spokesperson for the National Association of REALTORS®; and served as a speaker on a panel of professional women for the National Association of Hispanic Real Estate Professionals (NAHREP). In 2013, Liza was elected to serve on the Corporate Board of Governors for the National Association of Hispanic Real Estate Professionals (NAHREP). She is also on the executive committee for the NAHREP South Florida Chapter.
John Dohm, SIOR, CCIM, CFP, Infinity Commercial Real Estate, serves as Chairman-Elect; Martha Pomares, CRS, CIPS, ABR, GRI, SFR, TRC, AHWD, e-Pro®, Berkshire Hathaway Home Services Florida Realty, serves as Secretary; and Jack H. Levine, ABR, ABRM, CRB, CRS, SRES, Levine Realty, Inc., serves as Treasurer.
Also serving on the Executive Committee are 2014 Commercial President Edward J. Redlich, SIOR, CCIM, ComReal Miami, Inc.; 2014 Residential President Francisco Angulo, CIPS, CRB, CRS, TRC, GRI, Coldwell Banker; 2014 Broward County President Mark Sadek, PA, The Keyes Company; 2014 Commercial President-Elect Barbara Tria, Kerdyk Real Estate; 2014 Residential President-Elect Christopher Zoller, CRS, EWM Realty International; 2014 Broward County President-Elect Christopher Tello, Keller Williams Realty Partners SW; and 2013 Chairman of the Board Natascha Tello, CDPE, CIAS, Keller Williams Realty.
Also serving as directors are Terri Bersach, CRB, CRS, CIPS, SFR, TRC, Coldwell Banker Residential Real Estate; Alicia Cervera Lamadrid, Cervera Real Estate; Patricia "Pat" E. Dahne, Berkshire Hathaway Home Services Florida Realty; Nancy Hogan, CIPS, Avatar Real Estate Services; Fernando I. Martinez, FM Realty Corp; Sherrie Porter, EWM Realty International; Moe Veissi, Veissi & Associates, Inc.; Victor O. Ulloa, TRC, The Keyes Company; and Peter Zalewski, Condo Vultures® Realty LLC.
Teresa King Kinney, CAE, CIPS, GRI, RCE, TRC serves as the CEO for the organization.
About the MIAMI Association of REALTORS
The MIAMI Association of REALTORS was chartered by the National Association of Realtors in 1920 and is celebrating 94 years of service to Realtors, the buying and selling public, and the communities in South Florida. Comprised of five organizations, the Residential Association, the Realtors Commercial Alliance, the Broward County Board of Governors, the YPN Council and the award-winning International Council, it represents more than 31,000 real estate professionals in all aspects of real estate sales, marketing, and brokerage. It is the largest local Realtor association in the U.S., and has official partnerships with more than 115 international organizations worldwide. MIAMI's official website is http://www.miamire.com.
###