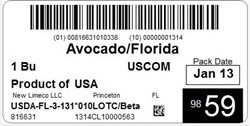 Business managers are..."impressed with the seamless integration of the new labeling protocol into their daily workflow and packaging systems."
South Portland, ME (PRWEB) January 30, 2014
Advanced Traceability Solutions is setting the industry standard for making compliant labeling a solution for any size supplier. New case tracking policies have recently been set in place by major retailers, making the state of the art PTI compliant systems by Advanced Traceability Solutions a valuable addition to its product offering.
Without interrupting current packing and shipping operations, the ATS Case Labeling Solution is augmented with technology that automates several aspects of the compliant label printing process, including the creation of voice pick codes, assignment of lot codes and pack dates. These streamlining innovations further cement ATS's position at the forefront of the food tracking and tracing.
Countrywide, the largest grocery retailers including Wal-mart, Kroger and Publix announced in late 2013 that standardized labeling to include product name, GTIN, lot code, packaging, grade, pack date, and origin would be required on every case of produce shipped to their warehouses and stores. A daunting change in policy for many small businesses, the new standard for compliant labeling is made both manageable and affordable by ATS Case Labeling Solution that is complemented by a wide range of mobile scanners and label printing units, also available from Advanced Traceability Solutions. Growers, packers and shippers, regardless of size, can use the ATS Case Labeling. Business managers such as Don Edgar from New Limeco, LLC is "impressed with the seamless integration of the new labeling protocol into their daily workflow and packaging systems." Further, Mike Flamm from Flamm Orchards and Paul Peters from Peters Orchards marveled at how easy it was to be compliant prior to the January 1st deadline.
No matter the label printing requirements, from mobile systems to durable waterproof labeling systems or hassle free standalone units that don't require a PC to operate, the experts of Advanced Traceability Solutions offer the best food tracking and tracing solutions for not only case labeling, but pallet and ship labeling as well.