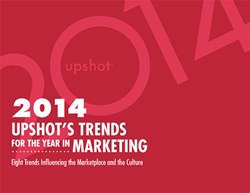 Chicago, Illinois (PRWEB) January 29, 2014
Upshot has released its fifth annual trends report spotlighting technological, demographic and cultural shifts that will shape the landscape for marketers and brands in 2014. Here is a quick highlight of Upshot's eight trends for 2014 (the full report is available for download here.
Millennials: Contentment is the New Cool. Marketers that want to connect with the largest generation in American history need to appeal to their different priorities and definitions of success.
Image Ascendant. Brands will have to hone their visual storytelling skills in order to reflect the new image-based language of the visual web and digital world.
Your Retail BFF. More retailers will turn to personalization strategies that leverage shoppers' growing dependence on digital and mobile tools in today's anytime, anywhere shopping world.
Professor Brand. A growing number of marketers will capture consumer's fragmented digital learning attention by offering up content that empowers consumers, builds on their sense of self-sufficiency and solidifies the brand's role as an expert.
La Nueva Shopper in Charge. More marketers will recognize the enormous opportunity to connect with Hispanic consumers this year and smart marketers will recognize and focus on the influence of the Latina shopper.
Marketing in the Moment. Success in real-time responsive marketing will be driven by micro-messages that are relevant, respectful and welcomed by your brand's consumer.
The CPG eCommerce Imperative. Brands of all sizes will dedicate more time and resources to ensure they're positioned to benefit from growing online CPG sales.
The Missing Middle and Considered Consumption. Middle class consumers will assess whether brands and retailers are supportive and understanding of their concerns, versus the needs of high and low end customers.
"Our goal with the trends report is to help our clients understand the intersection of cultural and business trends that ultimately shape Americans' mindset and behaviors in relation to brands," said Liz Aviles, Upshot Vice President of Market Intelligence. "Understanding the forces at work in technology, retail, the macro-economy and society, we're able to meet consumers' needs and exceed their expectations at today's hyper-speed pace of change."
Upshot's trends for 2014 are diverse thought-starters that apply to just about any brand or industry, giving marketers a guide to help them remain on the cutting edge—or, better yet, redefine that edge—throughout the course of the year. Produced by Upshot's Market Intelligence Group, the Source, the full report cites examples of marketers already putting these trends into action, as well as implications for marketers who are ready to immediately implement these insights.
About Upshot
Upshot (upshot.net) is an independent Chicago-based marketing agency that inspires people to take action with a focus on consumer, shopper and business-to-business marketing. Clients include Procter & Gamble, Crown Imports, LiftMaster, SUBWAY® Restaurants, New Balance and Kraft Foods to name a few.