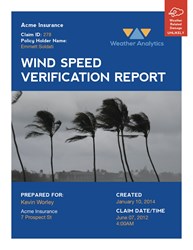 But then again, Weather Analytics thinks of itself more as a Big Data company than a Weather one.
Washington, DC (PRWEB) January 31, 2014
Weather companies are quickly becoming a new cottage industry in the Startup world. With increased focus on the here-and-now, one company is pushing the envelope – into the past. Weather Analytics provides industry solutions to a wide range of sectors. Yet the bulk of their business has nothing to do with tomorrow's forecast or 'Green Screen Meteorology.' It makes sense of weather that already happened.
The weather sector has been big news and big bucks recently. The Weather Company's media war against recent DirectTV's contract termination has exposed the world to just how profitable the state of the atmosphere can be. As evidenced by a recent Fast Company article, dozens of companies, including DarkSky, have moved into the space to utilize technology for 'nowcasting' services – another challenge The Weather Company must bat down. There's a determination in the air to leave no stone unturned with weather innovation. Weather Analytics, a small startup on the outskirts of DC, may have found a few more stones.
The company is run by former LexisNexis executives, but feels like a classic startup of the Boston or Palo Alto ilk. With regular hackathons and a crew of millennial meteorologists wielding macbooks, the energy and average employee age doesn't ring out 'weather company.' But then again, Weather Analytics thinks of itself more as a Big Data company than a Weather one. "We're not what people of think when they think of meteorology," Says chief meteorologist Stefan Cecelski, currently finishing his PhD at the University of Maryland, "Broadcast meteorology is aimed at condensing down the large and complex state of the atmosphere into a handful of variables forecasted over a couple days for public consumption. There's just so much more data at hand. Weather Analytics makes use of it."
The public typically cares about two things – safety and travel plans – and they're hungry for better, more accurate, and more immediate information. Businesses, however, have varied needs that relate to the weather – but these solutions are not being broadcasted. Weather Analytics taps into its three decades of weather data, which spans the globe consistently across hundreds of weather variables, to solve complex problems in various sectors. They call it 'hindcasting.'
The insurance market is rife with opportunities for hindcasting. So much so that Weather Analytics has spent a lot of time and manpower creating intelligent products tailored specifically to insurance needs. The recent launch of their Weather Verification Reports demonstrate how effective weather data and analytics can impact even a small portion of the industry's focus – fraud and claims verification. When a policy holder files a claim for a collapsed roof or frozen pipe, insurance companies can't just take for granted that it was snowing out or below freezing. Current attempts to categorize past weather events will, at best, show what the daily averages were for a wide region. "What makes this product so valuable," says Weather Analytics CEO Bill Pardue, "is our ability to downscale to a meaningful precision. The first launch of our Weather Verification Reports allows users to pull hour-by-hour data on a one square-kilometer space in the Northeast or Florida. Insurance companies and adjusters can't work with broad brushstrokes, like district or countywide weather averages. Weather Analytics' precision allows insurance companies to make more informed decisions about resource allocation and helps accelerate customer response time."
The 'weather intelligence' doesn't end with pulling weather history out of the database. Like the name says, the power of analytics and data science allows them to create a host of solutions for sectors beyond insurance, including retail markets, risk and commodity trading, energy and engineering, and more.
"I consider myself a data analyst," says meteorologist Krystal Repof. "We're not just about updating, cleaning, and standardizing our database and passing it off – although we do sell this data through our eCommerce platform – what makes my job exciting is the intersection between our data and other company's data. Whether it's sales revenue, staffing and resource management, logistics, or pricing data – the weather effects all of these in very complex ways. My work is to analyze the causations and correlations and produce intelligent recommendations based on data convergence."
About Weather Verification Reports
Verifying claims and combating fraud in property insurance is not small feat. Weather Verification Reports allow users to pull clear reports on specific 1km X 1km locations for a specified time range and weather variable. For ease of processing, these reports are tagged with red, yellow, and green markers, indicating the level of probability the occurring weather event could have caused property damage. To check out a sample report or sign up to buy, visit insurance.weatheranalytics.com.
About Weather Analytics
Weather Analytics revolutionizes weather intelligence solutions using over three decades of comprehensive, statistically stable, globally gap-free weather data - producing deep historical measurements, rich indexes, and robust industry-specific solutions. For more information, visit http://www.weatheranalytics.com.