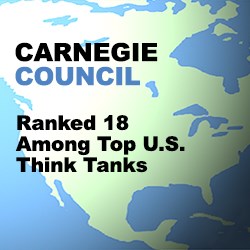 The Global Go-To Think Tank Index is the result of an international survey of over 1,950 scholars, public and private donors, policy makers, and journalists who helped rank more than 6,500 think tanks using a set of 18 criteria developed by the TTCSP.
(PRWEB) January 30, 2014
According to the "2013 Global Go To Think Tank Index," Carnegie Council for Ethics in International Affairs ranks number 18 in the list of top think tanks in the United States, out of a total of 1,984 in the country.
To see the full report, go here: http://gotothinktank.com/dev1/wp-content/uploads/2014/01/GoToReport2013.pdf
Prepared by the University of Pennsylvania's Think Tanks Civil Societies Program, this annual index is the authoritative ranking of the world's top think tanks. It is based on a global survey of scholars, policymakers, journalists, and regional and subject area experts.
Carnegie Council ranked number 29 in 2011 and number 19 in 2012.
Founded by Andrew Carnegie in 1914, Carnegie Council for Ethics in International Affairs is an educational, nonprofit, nonpartisan organization that produces lectures, publications, and multimedia materials on the ethical challenges of living in a globalized world.
Most of the Council's output is available free of charge online. Check out its multiple resources!
Please go to the Council's main website: http://www.carnegiecouncil.org