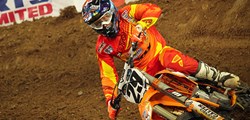 Thousand Oaks, CA (PRWEB) February 03, 2014
BTO Sports, a popular motocross and dirt bike online merchandiser, recently announced their continued commitment to both team riders for 2014 - Andrew Short (#29) and Matt Goerke (#44). The pair of riders strengthens the BTO Sports Race Team with competitive spirit, a winning tradition and incomparable racing passion.
Started 11 years ago as a grass roots program, the BTO Sports-KTM-WPS Race Team recently signed a deal with Factory KTM. This significant milestone in the team's history provides a veteran presence to bolster the entire BTO Sports enterprise. With two familiar riders officially in place for this year, 2014 promises to be the most exciting racing campaign to date.
Team BTO Sports (follow on Twitter: @teambtosports), with Short and Goerke along for the 2014 circuit, is firmly established as one of the finest motocross racing teams in the country. Their trademark racing passion is complemented by honor, integrity and an unmatched work ethic.
Andrew Short, better known to his fans as "Shorty," is fully prepared for the 2014 season. Short joined the team in the middle of 2013, and his reputation as one of hardest-working, most likable riders will be a valuable asset to the team.
One of the sport's most consistent riders, Matt Goerke is also back on the BTO Sports-KTM-WPS Race Team for 2014. Goerke will look to make an impact in the premier 450 class. After a steady string of top-10 finishes last year, Goerke expects big things this year. Goerke's durability is also a positive attribute. Despite surgery on his broken (index) clutch finger, he's ready for the challenges of a new season.
Both riders achieved impressive results at the recent Monster Energy Supercross an FIM World Series in Phoenix. This successful start to 2014 illustrated how important each rider is to the entire BTO Sports-KTM-WPS Race Team.
About BTO Sports:
BTO Sports is one of the most popular dirt bike and motocross accessory outlets on the internet. The company is based in Thousand Oaks, CA, and offers a wide range of gear & apparel, including dirt bike parts, dirt bike accessories, MX helmets, motocross apparel (including jackets, pants and jerseys) and much more. BTO Sports is a member of many different consumer advocacy groups, including the Better Business Bureau. For more information, visit their website: http://www.btosports.com/.