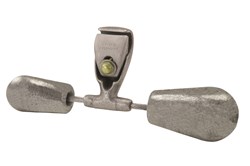 With the combined proven performance of two different sized weights and uneven messenger lengths, optimum performance is achieved.
Spartanburg, SC (PRWEB) February 03, 2014
AFL is launching a high-efficiency Dissipator Stockbridge vibration damper, a motion control attachment that provides significant performance improvement over traditional dampers. The new Stockbridge vibration damper features a unique offset bell-shaped weight configuration that doubles the number of resonant frequencies. This provides more consistent efficiency performance over the Aeolian frequency span and eliminates damage caused by Aeolian vibration.
"With the combined proven performance of two different sized weights and uneven messenger lengths, optimum performance is achieved," stated Gary Harter, commercial manager for AFL's conductor accessories division. "Damage is reduced and the life of transmission lines is extended, ultimately reducing costs for our customers."
With four natural frequency response modes coupled with its unique weight shape, AFL's high-efficiency Dissipator Stockbridge vibration damper provides one of the widest frequency ranges in the industry. The damper's offset bell-shaped weights provide corona performance up to 500 kV. The conductor clamp can be used on HiTemp® conductor applications up to 250°C without the need for armor rods. Optional break-a-way bolts are available to ensure consistent torque requirements.
To help customers determine the number of Stockbridge vibration dampers or Speed-Grip Spacers required for each span as well as location suggestions, AFL offers Vibrec™, an integrated Windows®-based vibration analysis program at no cost. Vibrec is available for download on AFL's website.
For more information on AFL, its products and services, visit http://www.AFLglobal.com.
About AFL
AFL provides industry-leading products and services to the electric utility, broadband, communications, enterprise and OEM markets as well as the emerging markets of oil and gas, mining, nuclear, avionics, renewables and transportation. The company's diverse product portfolio includes fiber optic cable, transmission and substation accessories, outside plant equipment, connectors, fusion splicers, test equipment and training. AFL's service portfolio includes market-leading positions with the foremost communications companies supporting inside plant central office, EF&I, outside plant, enterprise and wireless areas.
Celebrating its 30th anniversary, AFL is proud to offer engineering expertise, exceptional products and reliable service that help our customers improve their critical and electrical infrastructure. AFL has operations in the U.S., Mexico, Canada, Europe, Asia and the South Pacific. The company is headquartered in Spartanburg, SC and is a wholly-owned subsidiary of Fujikura Ltd. of Japan.