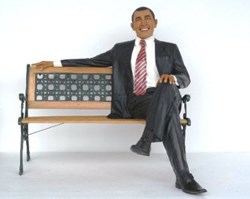 London, UK (PRWEB UK) 13 February 2014
Magical Gift Store on Amazon has set a benchmark by releasing a gift range called "The famous person on a bench".
Most people never had a chance to sit next to the Queen or President Obama. This is now changing thanks to the latest trend on Amazon.
Magical Gift Store, who trades on Amazon.co.uk, has launched a new range of high quality, durable poly resin and fiberglass models. It is a fun and original idea to entertain guests or children and might become the year's most popular entertainment idea. They are an ideal talking point for any garden party, birthday celebration or social gathering.
Fun photographs can now be taken with the world's most influential figures!
The range includes Mr and Mrs Obama and other celebrities such as the cult comedy icon Mr Bean and the one and only Queen Elizabeth.
One of the fun uses of the range can be during a family barbecue, where family and friends gather to enjoy some delicious food, have a drink, talk about everyday life, play some social games and take fun photos. The idea can be to tell family and friends, for example, that President Obama is doing the cooking. Once in the garden, there will sure be laughter and giggles once eyes are laid on Obama sitting on a bench. Even dogs will feel like royalty as they run around the garden under the watchful eye of one the most famous dog owners in the world. Other famous people can also make an appearance or be the afternoon's attraction.
Each Model is made to order and comes with its very own green alloy bench and can be delivered directly to a home or business address in the UK.
As a special introductory offer, the Magical Gift Store is offering 10% off the range using offer code: MAGICS10 at checkout. To visit the Magical Gift Store, click this link: http://www.amazon.co.uk/dp/B00HYGH8TE