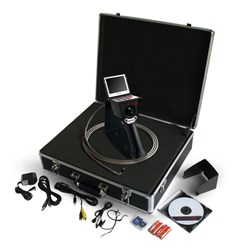 This was a great addition to our tool cage. We had it in use ten minutes after arrival and it's been busy ever since. Thanks! - Richard D., Aviation Maintenance Supervisor
Traverse City, MI (PRWEB) January 30, 2014
The Great Lakes Aviation Conference is coming up, February 14-15 at the Lansing Center in Lansing Michigan. This conference and expo is one of the largest aviation gatherings in the Midwest. With over 50 exhibiting companies, the conference will be an excellent chance to meet aviation professionals from all sectors of the industry.
RF System Lab is proud to announce they will be exhibiting at the 14th Annual Great Lakes Aviation Conference for the first time. The VJ-Advance video borescope from RF System Lab has become a preferred visual inspection device in private, commercial and military aviation applications. As the sponsor of the Maintenance Symposium within the conference, RF System Lab looks forward to the opportunity to place the groundbreaking VJ-Advance video borescope in users' hands. The conference also includes technical breakout sessions that take place during both days of the exhibition. Duncan White, Director of Sales and Marketing for RF System Lab will be giving a presentation along with Rich Bray from Kalitta Air, one of RF's oldest clients, about video borescopes and the more common aviation applications for the VJ-Advance borescope. Rich Bray is a highly skilled powerplant engineer with many years of experience in all aspects of GE CFM-56, CF6-50, CF6-80 and Pratt & Whitney engine maintenance, repair, troubleshooting, EHM analyzation, training and research.
RF System Lab designed the VJ-Advance video borescope to be highly portable, easy to use and cost-effective. These attributes make the VJ-Advance a great option for aviation maintenance technicians. RF System Lab is so confident in the value and performance of the VJ-Advance, that we offer the industry's only no-cost, no-obligation demo program. Call 231-943-1171 to speak with one of our knowledgeable representatives about your specific application.