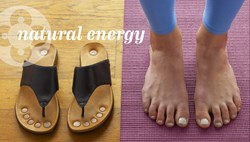 Chattanooga, TN (PRWEB) January 29, 2014
n2 shoes is excited to announce that they are now offering Juil Sandals. These stylish shoes promote a healthy lifestyle by cleansing the body of free radicals, which accumulate through toxins and stress.
Owner Alison Songer said, "We're excited to add Juli Sandals to our line of brand offerings. We believe in the benefits of their products to boost energy and provide an overall sense of well-being. Our customers will love this footwear."
Juil Sandals use proprietary copper alloy "dots" in the toes and heels of its shoes that act as conduits to restore the balance in our bodies. Electrons in the copper conductors have a balancing effect on the nervous system and cleanse the body of free radicals, which attack healthy cells and cause inflammation.
The stylish footwear also has ergonomically-designed foot beds that form to provide individualized support for the wearer's foot arch, natural heel cradle and toe bar – rather than the shoe forcing the foot to match its manmade support and position. Juil's Sandal Arch allows for natural movement while strengthening the foot and enabling it to adjust naturally.
To view the Juil Sandals collection or to learn more, visit the n2 shoes website at http://www.n2shoes.net.
About the company:
In early 2009, n2 shoes opened with the philanthropic business model of selling products with a mission, cause or purpose. The business strives to make a difference both locally and globally by selling fashionable, yet comfortable and affordable footwear, clothing and accessories. The name of the business was originally "nooga 2 shoes" – for Chattanooga – but they then dropped the "nooga" and became n2 shoes. If people like and wear shoes, then they are into, or "in two," shoes. n2 shoes is committed to providing their customers with high quality products and superior service. They always strive to change people's lives and support the world through their business. For more information, please visit their website at http://www.n2shoes.net.