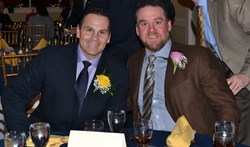 Time was of the essence in this case
Morristown, NJ (PRWEB) January 31, 2014
Ronald Benitez, MD of Atlantic NeuroSurgical Specialists (ANS) recently received a "Life Saving Award" from PBA Local 155 for saving Ramsey Police Officer Rich Falotico from a life-threatening stroke. The award ceremony took place at the Ramsey Country Club in late December.
"The most rewarding part of my job is to see my patients recover and enjoy the life they had before," says Benitez. "I was moved by the PBA honoring me for just doing my job. I could say the same about Rich being a police officer, but I am sure he would say the same thing."
Rich Falotico, 41, of Allamuchy, was home when he suffered a blood clot in his brain stem, a deadly condition that affects the blood supply to areas of the brain. If left untreated, the prognosis is most probably fatal for these severe types of strokes.
"If it wasn't for the emergency responders, my wife, and Doctor Benitez, I would not be here today," says Falotico. "The dinner gave me a chance to shake their hands and really thank them for saving my life."
Falotico's story starts when he woke up on a Friday morning in June with a severe throbbing headache at the base of his head. He remembers never feeling pain like it before, but shrugged it off as a bad headache. After a morning of increased symptoms, including a feeling of tingling in his face and blurred vision, his wife, Marilyn, called 9-1-1. The situation went from bad to worse and Rich's life was in jeopardy. After being airlifted from the Allemuchy elementary school, he was taken to Morristown Memorial Hospital, where he was met by Dr. Ronald Benitez of (ANS). After an MRI, Dr. Benitez discovered the blood clot in Falotico's brain stem.
"Time was of the essence in this case," states Benitez. "If the condition was left untreated, Mr. Falotico did not have a chance of survival, and even with treatment there was no certainty he would recover fully, but we had to try to save him."
Dr. Benitez went on to explain the condition Mr. Falotico was in during the time of his transport. If Mr. Falotico was conscious, he was most probably experiencing locked- in syndrome. Locked-in syndrome, or LIS for short, is a condition in which a patient is aware and awake but cannot move or communicate verbally due to complete paralysis of nearly all voluntary muscles in the body except for the eyes. Total locked-in syndrome is a version of locked-in syndrome where the eyes are paralyzed, as well. Some patients live the rest of their lives in this condition if not treated.
Dr. Benitez chose to treat this stroke utilizing the remarkable mechanical thrombectomy procedure where a device is used to capture the clot and remove it during the actual stroke. Using a specialized biplane angiography machine, he is able to navigate this device through the arteries originating in the patients groin into the vessel of the brain being affected to retrieve the clot. The procedure is technically challenging and does require special training. Dr. Benitez is the Director of Endovascular Neurosurgery at three of New Jersey's comprehensive stroke centers and has treated and saved hundreds of patients, along with his two partners, Dr. David Wells-Roth and Dr. Kyle Chapple, from this devastating illness.
Dr. Benitez says it was a team effort in saving Mr. Falotico. "Everything was lined up for him this night. It seemed that someone was watching out for him and made sure all of us who were involved in this incredible evening were exactly where we had to be. From the incredible response of the state troopers to the EMS flight crew to the fast response of his wife and my team at the hospital, we saved his life."
Following his stroke, Falotico completed outpatient therapy at Atlantic Rehab Institute, in which he made a full recovery and now is one of the key members of the support group started by ANS called Partnership of Strength. The Partnership of Strength]up, which meets in ANS's Morristown office, brings people from all walks of life together who have suffered a traumatic condition like an aneurysm or stroke and provides support and education from other stroke victims and professionals.
"I feel great now, says Falotico. "I am back doing what I love, and feel so blessed to have an amazing family."
For more information on ANS, their Neurovascular Center, or Partnership of Strength visit http://www.ansdocs.com or call 973.285.7800.