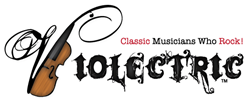 (PRWEB) January 29, 2014
WHAT: You've seen them perform all over Central Florida and heard about those rockin' violins… Now, the popular strings rock group "Violectric" is hosting a free night of live music to commemorate the exciting release of their debut album "One." Experience for yourself the electric string quintet plus keyboards and drums, whose custom arrangements of classic and modern rock tunes like Billie Jean, Born to Run and Moves Like Jagger cannot be heard anywhere else. Be among the first to get a copy of "One" and stay and meet the band, who will be celebrating with guests all evening long.
WHEN: Violectric CD Release Party rocks out on Sunday, February 23 from 6pm-9pm.
WHERE: Dexter's Restaurant, 558 W New England Ave, Winter Park, Florida 32789.
HOW: Violectric is a unique fusion of classical string instruments with the excitement of cutting-edge modern technology and effects. Using custom arrangements tailored to sound unlike any other, they take you on a musical revolution that is guaranteed to change the way you look at everything they play. Performing on classic acoustic string instruments with electric pickups and effects, you have never heard a string quintet quite like this. From The Beatles to Led Zeppelin, Aerosmith to The Rolling Stones, Violectric performs live musical hits without any recorded elements or backing tracks.
WHO: Formed in 2008, the accomplished members of Violectric have been performing in various groups, orchestras and together for over 20 years across the globe. In 2009, members of Violectric were honored to perform their custom arrangements on air for a MTV event sponsored by Microsoft and Full Sail University. Violectric has performed various convention shows throughout Florida, and in December 2010, they performed at Orlando's Hard Rock Live followed by a series of shows in China. In 2013, Violectric performed at Orlando's Amway Center with the Orlando Magic. Most recently wrapping up the year, they produced a special holiday show mashing up popular songs with classic and modern rock that debuted on December 20 at The Walt Disney Amphitheater at Lake Eola in Downtown Orlando.
WHY: Violectric is committed to music education offering music education programs throughout the United States and Asia including masters classes and performances combining Violectric with student string groups. See, hear and meet the classic musicians who rock known as "Violectric" on Sunday, February 23 at Dexter's starting at 6pm. For more information on Violectric and where to get the album, visit http://www.violectric.net.
# # #
MEDIA CONTACT: Ilene Lieber, 321-277-7812, ilene(at)passionprconsulting(dot)com