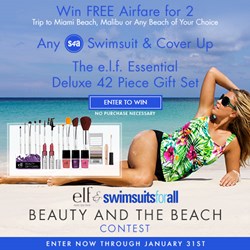 Keyport, NJ (PRWEB) January 30, 2014
swimsuitsforall, a women's swimwear brand, and e.l.f Cosmetics, a cosmetics and makeup brand, are giving one customer a chance this month to win a getaway for two to a beach of their choice as a part of their joint Beauty and the Beach contest.
The giveaway is being run January 20th until January 31st, 2014. One winner will be chosen on the last day of the contest to win a $1000 American Airlines voucher to use towards a trip for two to Miami Beach, Malibu or any other beach the winner chooses. The Beauty and the Beach Contest winner will also be awarded with a free e.l.f Cosmetics Essentials 42-Piece Deluxe Gift Set, a $50 e.l.f. Cosmetics e-gift certificate, as well as a free swimsuit and cover up of their choice from swimsuitsforall.
This contest has prompted excitement from customers all around the nation, especially those living in areas currently in the grips of unpleasant winter weather. For the lucky winner, winter will only be a distant memory as they jet off to a dream location, feeling like true beach beauties with a new set of cosmetics and swimwear.
This is the second social media giveaway that swimsuitsforall has organized this month in partnership with another company. Earlier this month, the women's swimwear company ran a joint contest with POSE Magazine, a plus size fashion and lifestyle magazine. Throughout the five-day contest, multiple winners received a $25 swimsuitsforall gift card and one grand prize winner was chosen to receive a $200 gift card.
To enter the giveaway, visit the sign up page for the Beauty and the Beach contest. To learn more about swimsuitsforall and their exciting giveaways and deals on fashionable women's swimwear, visit their website at http://www.swimsuitsforall.com.
About swimsuitsforall:
For over eight years swimsuitsforall has been providing women sizes 8 and up with high quality swimwear at competitive prices. We're on a mission to help women find the best swimsuit—one that fits, flatters, and best reflects personal style. We vow to replace swimwear shopping-dread with 100% satisfaction. How? By creating a seamless experience with supportive customer service and hassle-free returns and exchanges. It's our Design Fit Guarantee! At swimsuitsforall we believe that some of the most memorable times in our loves are spent wearing a swimsuit—by helping make those experiences better, happier, and accessible to anyone and everyone, we are making the world a better place to swim in.