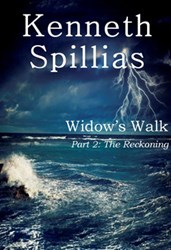 Sooner or later, every man reaches a point where he knows that it's time to take stock of his life—to create an inventory of the choices he's made . . .
West Palm Beach, FL (PRWEB) January 31, 2014
It's not unusual for an attorney to write a book. Many write crime novels – sticking with the genre they know best. But the breakout fiction Kenneth Spillias recently released shows an astonishing departure for the soft-spoken West Palm Beach attorney who is known for community involvement, family, and several dabbles in local and state politics.
The two-part novel, "Widow's Walk: The Precipice," and the follow-up "Widow's Walk: The Reckoning," is billed as an "erotic psychodrama" – examining one man's battle with the forces pitting good against evil. Spillias is often asked whether he based the book on personal experience; friends and family try to find similarities between characters he created and the real ones in his life. But Spillias maintains that the only things real in the book are some of his settings – South Florida cities, such as Manalapan and Ocean Ridge because he has spent the last 35 years in Palm Beach County; plus Pittsburgh where he grew up.
The book takes its protagonist, Jim Donovan, on another type of journey leading him through a mystical, savage, erotic and spiritual struggle to a bone-chilling, edge-of-your-seat climax involving the seen and unseen, the known and unknown. The first book does take the reader, as well as Donovan to the precipice – the second, the just-released, "Widow's Walk: The Reckoning," takes us to a possibly-inevitable conclusion.
Donovan starts life as a good kid, affected by two early-but-traumatic events. Although he stays on a good path for a while, too many tempting forces and experiences pull him in other directions through adulthood, especially compelled by a man he initially sees as a mentor. Donovan's subsequent path leads him to illicit love, spiritual compromise, and a final, shattering battle.
What deep crevices of his usually-practical legal mind brought Spillias to write about such a demonic topic? Indeed, what led him to write a novel at all? Spillias said that what he thought would be a great ending for a short story came to him one night while settling in to sleep. "Then I realized I'd actually have to write a story to get to that ending," he says with a chuckle. But even that proved difficult. "I wrote it, but then realized that I had no idea how to develop characters and storylines. I read everything I could and started again. Then I couldn't stop writing, the characters took on a life of their own, and it turned into a book," he added. "I've been practicing law for more than 30 years. Writing about it would be just an extension of the ordinary for me. This was something that came to me and I felt compelled to follow it," he explained further.
And, while the first book did reach a satisfactory ending, Spillias knew there was even more to Jim Donovan's struggle and so did the readers of the first book. Spillias wrote the second because, as in real life, those kinds of struggles don't just stop.
"Maybe the books did come from some aha moment for Spillias. After all, he did write in his preface, "Sooner or later, every man reaches a point where he knows that it's time to take stock of his life—to create an inventory of the choices he's made, good and bad, and decide whether to stay on the same path or change course. Sometimes he reaches that point gradually, as a result of a number of consequences or occurrences that cumulatively lead him to a recognition that he is drifting, with no real purpose or goal—at least not one that is likely to lead to joy or fulfillment. Some have an epiphany, an "aha" moment, triggered by a bolt of enlightenment or, more frighteningly, by a sudden tragic loss or event that scares him into introspection and self-realization."
No matter what the answer is to that question, Widow's Walk, through both volumes, brings all of us who read it to a thought or two about our own precipice – when faced with both the good and bad encounters of life, which direction would we take?