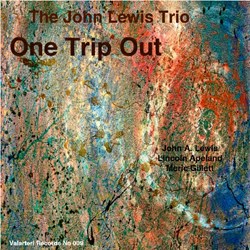 John A. Lewis is a composer with a different perspective. His compositions are fresh with an air ofunprsdictability. If you like jazzthat is slightly of the beaten path, 'One Trip Out' is a good choice James StapletonThe sounds of JAZZ KNON radio.
Dallas Texas (PRWEB) January 30, 2014
The John A. Lewis Trio announces the release of their third CD recording on the Valarteri Records label. The Trio consists of pianist/composer John A. Lewis, bassist Lincoln Apeland and drummer Merik Gillett. The Trio has been performing together for over four years. This offering from the Trio displays a uniqueness in concept that can only be achieved by original compositions with individual and group interpretations. Sometimes the Trio is playing as one, sometimes as two and other times as three. John's writing style is not something that you would learn in a school of music. Non-traditional chord changes taken as a whole function around a key center in the improviser's ear first, and then the listener. The Trio takes possession of these vehicles and rides them to wherever they go.
The recording consists of eleven original tunes. Eight by pianist Lewis and one each by bassist Apeland drummer Gillett and saxophonist/composer Jason Davis.
The first offering on the recording "Let Face It" is a medium tempo tune with a four feel. The drums comp in step with the piano solo while the bass ties the harmony together. This is followed by the title tune "One Trip Out" a medium up tempo tune that displays a bopish groove. The third tune on the recording "A Faustian Occurrence" is a medium tempo tune with space on the head that allows the bass and drums to breath into the tune. The bass plays the head on the Monkish "The Grifter." "Spang" is a drum solo that is full of melodic development. "Sixty Miles Short," this energetic up tempo piece stops and stutters with a driving underlying hard groove all the way. "Three Shades" in 3/4 gives the listener a change in mood and feel while cleaning the palate. "Def-Blue" is a grooving 16 bar blues with a bridge. "Nice" composed by Jason Davis is a translation of the medium and up tempo group concept into a ballad. Here the nontraditional changes linger long on the ear and take the listener along every step. The medium up tempo "Sly Steps" teases you with a vamp during the first 16 bars, leaving you wanting more. The recording ends with "A Sisypean Endeaver" which is a brief but intense indulgence of the bass composed by Lincoln Apeland.
The CD was recorded at Lincoln's Place studio.
This is John A Lewis's eighth recording on the Valarteri Records label. Check out the activities of the John A. Lewis Trio on Facebook and Twitter and visit the John A. Lewis website at johnalewisjazz.com. To purchase recordings of the John A. Lewis Trio and Quartet, visit CDbaby.com.