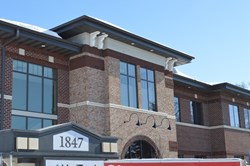 Being able to present commercial office space that is of benefit not only to the tenants, but the community as a whole is one of the best parts of what we do at Compass.
Cedar Rapids, IA (PRWEB) February 13, 2014
Compass Commercial Services offers quality commercial space with the latest technological capabilities in an area that has indicated continued interest in extended hospital/medical facility locations.
This stretch of 1st Avenue is constantly growing and has attracted mostly medical and physician-oriented business offering convenient proximity to emergency care and other medical offices. These businesses provide a valuable service to those in need while being located just beyond the high volume traffic of a hospital or larger facility.
MedTouch features expertise and service in the areas of web-based medical services which include, but are not limited to: online strategy, hospital website design, content management systems, healthcare search engine marketing, physician-landing pages, hospital social media, mobile applications and website audits.
MedTouch has moved into suite 200 at 1847 1st Avenue as of February 1, 2014. Compass is proud to establish a successful property management relationship that will continue into the years ahead.
ARJ Infusion, a leading provider of specialty home infusion pharmacy and nursing services will also soon call 1847 1st Avenue home in suite 100. ARJ specializes in treatments related to bleeding disorders, immune deficiencies and neurological disorders.
One tenant space of 2,500+ square feet remains in this beautiful building. Compass has shown the space to prospective tenants but as of this release date, the final tenant has not been established.
About Compass Commercial Services
Compass Commercial Services is a full-service General Contracting and Construction Management firm in the Cedar Rapids area specializing in a wide range of commercial construction projects including interior and exterior renovations, remodeling, building additions and the complete construction of new buildings. As a TRUE design-build firm, Compass Commercial Services is poised to complete projects from the ground up. From the initial design through the entire building process, customers have the advantage of working directly with one company, and a team that is structured to deliver final projects on time, and on budget.