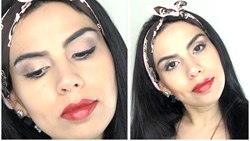 New York, NY (PRWEB) January 31, 2014
Naked 3 is the continuation of the beauty industry's most successfully selling eyeshadow palette line. This was likely one of the most anticipated items for the holidays and blogs were abuzz on its release. Felicia Zanguiabadi of Sweet Material demonstrates the various looks that can be created with the palette, ranging from subtle low-key everyday looks to more dramatic evening looks.
Felicia chose to feature Naked 3 due to the line's range of color, which not only compliment every skin complexion, but are very flattering and pigmented on any skin tone. The palette comes with a dual end brush and 4 trial size versions of their eye shadow primer. The primers come in different formulation from lighter to heavier consistencies, which can be worn as a shadow or highlighter. The palette consists of a set of gorgeous neutral/pink/rose and bronze hues in shimmery, satin and matte finishes. The lights and darks in the palette compliment and offset each other beautifully. Felicia says, "The hues match my olive complexion nicely and options to create looks are endless. The colors blend effortlessly and as expected from Urban Decay, the shades are incredibly pigmented and silky soft".
Felicia developed four separate makeup tutorials varying from day, evening to transitional. The first look is a pin-up inspired look, which can also be used for Valentine's Day. The hues used from the palette help to achieve a classic, sophisticated look that enhances any eye color because of it's neutral qualities. The lips are shaded in a bold, bright red shade from Chanel's Rouge Allure in Passion #104.
The second look is a gunmetal smokey eye look comprising of 3 colors: Dark side, Nooner and Dust. The lips are completed with a pink/nude shade from Chanel's Rouge Coco 05 Mademoiselle. The makeup tutorial is perfect for those looking for an understated smokey eye look for work or daywear. It's super easy to create and by using the light based primer, the color lasts all day without creasing.
The third eye makeup tutorial consists of 4 colors: Strange, Blackberry, Nooner and Buzz. The combination provides a sexy and intense look due to the gradient effect on the eyes. Two different lip colors were illustrated: Mac's Punk Couture AA3 and Chanel's Rouge Coco 05 Mademoiselle. This gives the wearer the option of a bold evening look to more subtle day look, where the emphasis is placed more on the eyes and less on the lips.
The fourth look is a dramatic, rose hued smokey cat eye look. The shades used from the palette are Blackheart and Trick, which helps to create the ombre effect. The lips are a bold pink fuchsia using Lancome's Rouge in love #377.
The tutorials can be viewed on her youtube channel or sweetmaterial.com.
About SweetMaterial.com
Felicia Zanguiabadi attended the Fashion Institute and has interned with world-renowned fashion designer Vera Wang. Determined to share her knowledge with others, she developed tutorials for sewing, draping, and designing garment pieces. Within a short amount of time, her videos were positioned among the top ten YouTube instructional videos. In November 2013 she also expanded her format to include easy-to-follow makeup tutorials.